Xmas Sour is a Gin Sour using Gin distilled with Christmas puddings, with an accent of Benedictine, soured with lemon juice and sweetened with a little honey, topped with a chilled Sherry custard foam for a refreshing Australian Summer Christmas cocktail, garnished with a sprinkle of ginger and a fresh cherry. The Xmas Sour offers an alternative to hot pudding and a lovely way to finish Christmas lunch on a hot Australian Summers' Day with all the flavours of a Christmas pudding with boozy Sherry and cinnamon custard in refreshing sour dessert cocktail form.
The Xmas Sour Base
The Sour Base for the Xmas Sour is inspired by the fancy Sour recipes of the late 1880's and more specifically the Whisky Sour No. 2. of Theodore Proulx (1888: 37-8) appearing in his The Bartender's Manual. Proulx's (1888: 37-8) recipe has become one of my favourite Sour recipes – being complex and elegant – it calls for lemon juice, sugar syrup, Whisky and an accent of Benedictine or Curacao, and an optional sink of pineapple juice, sugared rim and berries in season garnish. For more on Proulx's (1888: 37-8) recipes and the history and evolution of the Sour see my post on Cinnamon Pear Sour. Proulx (1888: 38) may well be correct when he writes of his Whisky Sour No. 2. recipe:
'This is acknowledged to be the nicest sour on record.'

Theodore Proulx (1888: 38). The Bartender's Manual. Chapin & Gore: Chicago.


I have swapped out the Whisky for Chistmas Gin and left out the pineapple, replacing the sugar syrup with honey syrup and retaining the Benedictine accent. In the spirit of continuing the 1880's fanciness the garnish has become super fancy recreating a Christmas pudding experience with a chilled custard foam layer. The ingredients of the Xmas Sour include lemon, honey, Chistmas Gin and Benedictine.
Lemon
The Xmas Sour uses fresh lemon juice as the souring element. Early Sour recipes also called for the peel of the lemon, extracting the aromatics of the lemon by muddling it in the glass or twisting it over the drink. Here I have only used the lemon juice following the later style as shown in Proulx's (1888:37-8) recipe. The lemon juice gives a sour element but not the strong aromatics allowing the Christmas Gin base to shine.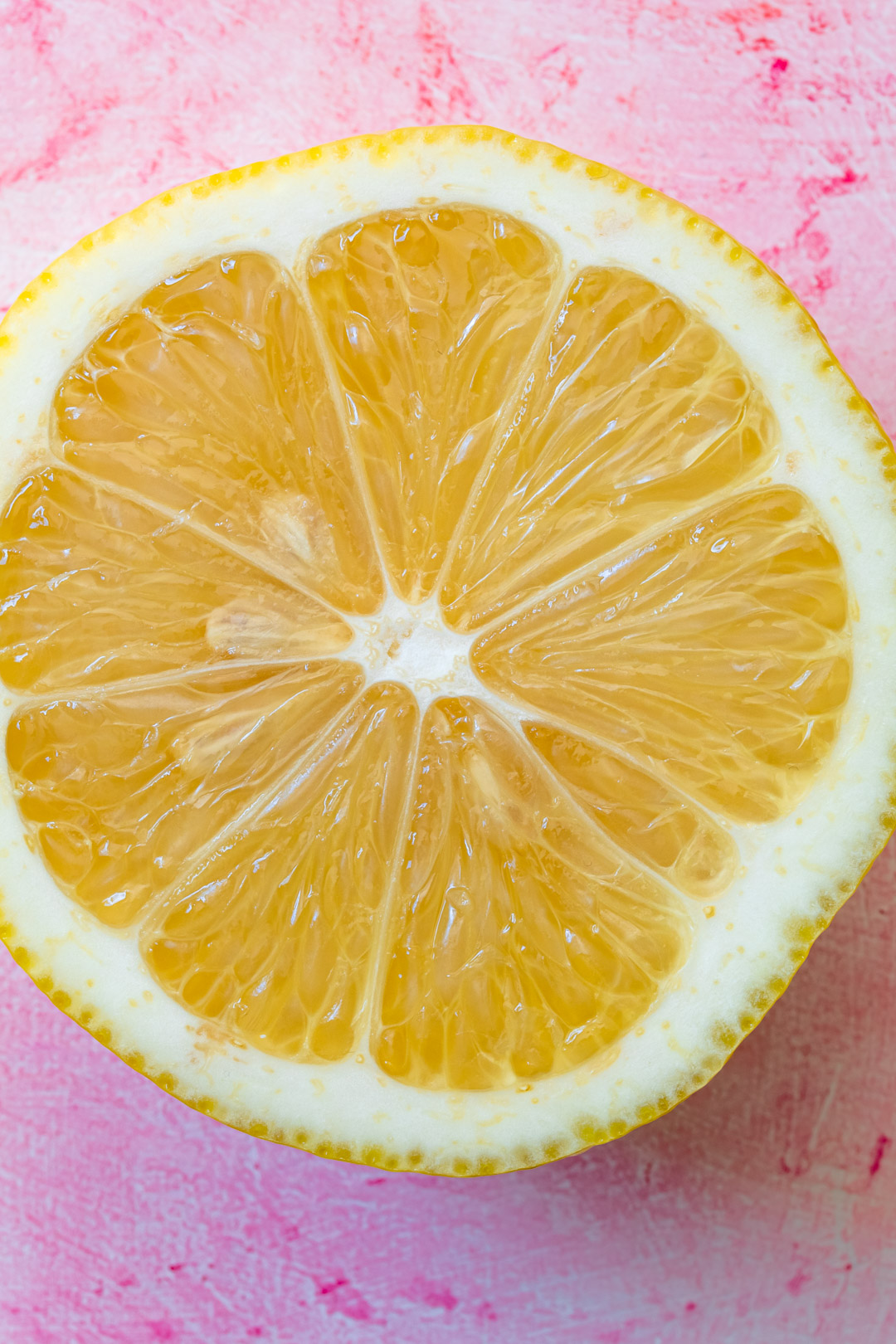 Honey syrup
A simple 1:1 honey syrup replaces the usual sugar syrup adding a little additional smoothness and creamy mouthfeel. I have used a wildflower honey.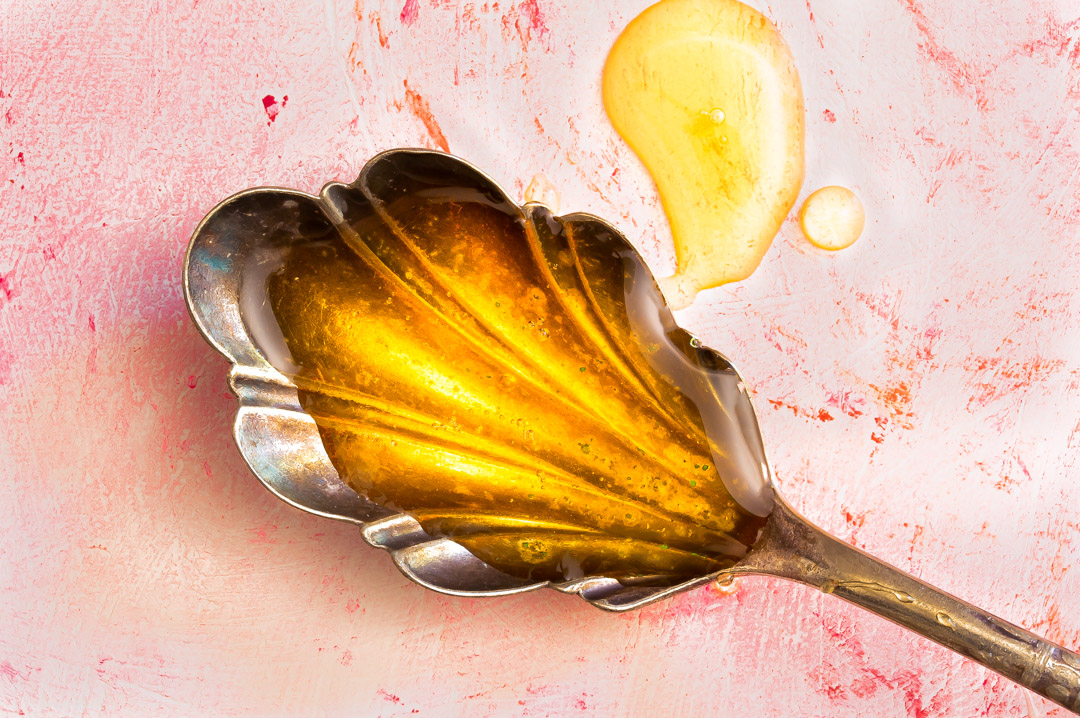 Four Pillars Christmas Gin
The Gin used in the Xmas Sour is the Four Pillars Christmas Gin that is distilled with Christmas puddings for an amazing Christmas pudding flavour – to my palate it really does evoke Christmas with the freshness of juniper calling on Christmas tree fir notes and the distilled Christmas puddings adding complex notes of butter, brandy, dried fruits and spice. I love the family connection of distilling the puddings which are made to the head distiller Cam's Mum Wilma's recipe – the Christmas Gin is a tribute to her and her recipe, as she has sadly passed away. What is Christmas for if not for connecting with family and loved ones and cooking is such an evocative and comforting way of reconnecting with absent loved ones bringing their favourite aromas and flavours to life.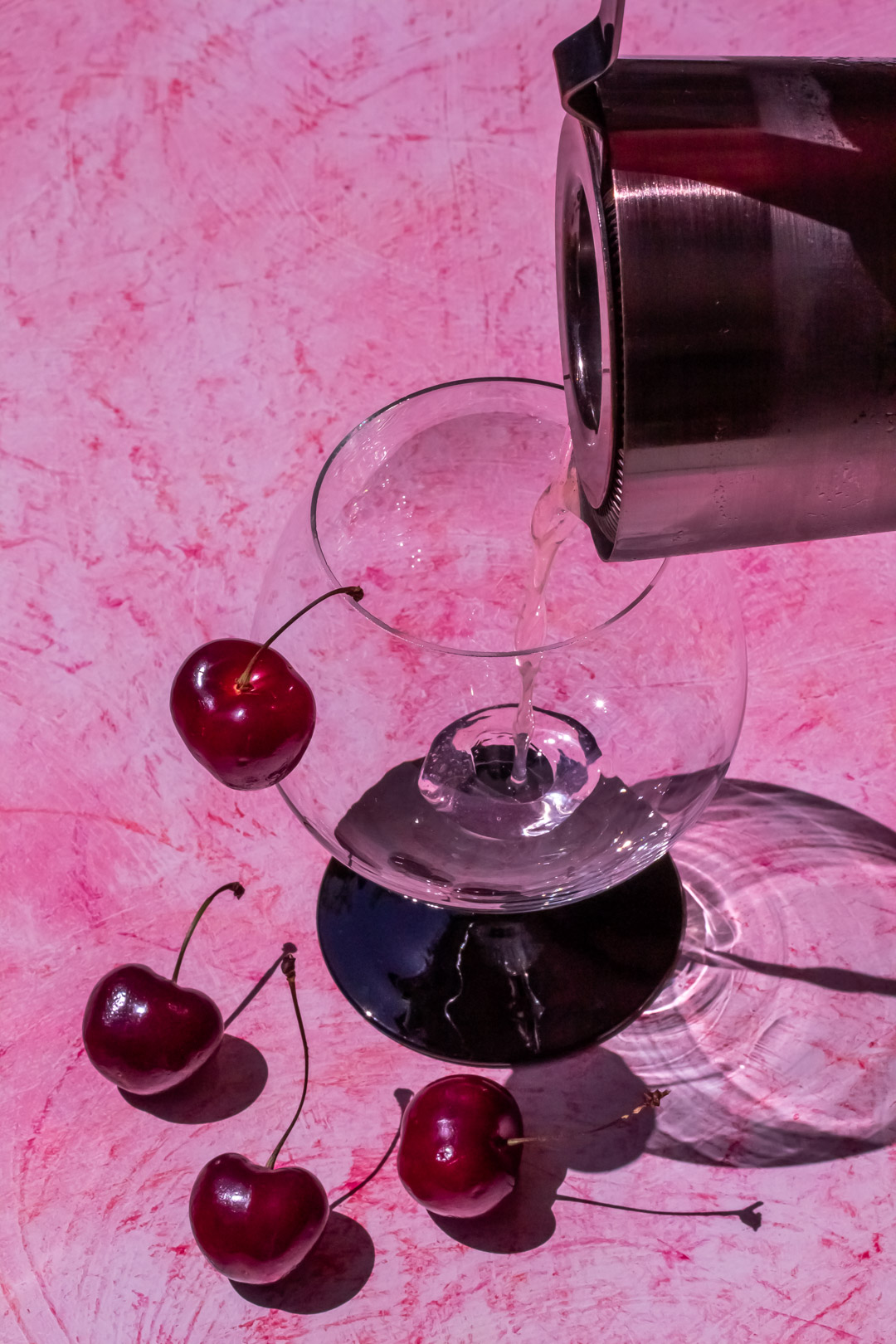 Benedictine
I have retained Proulx's (1888: 37-8) Benedictine accent – this adds complex herbal notes along with honey and almonds that works wonderfully with the already complex Christmas Gin.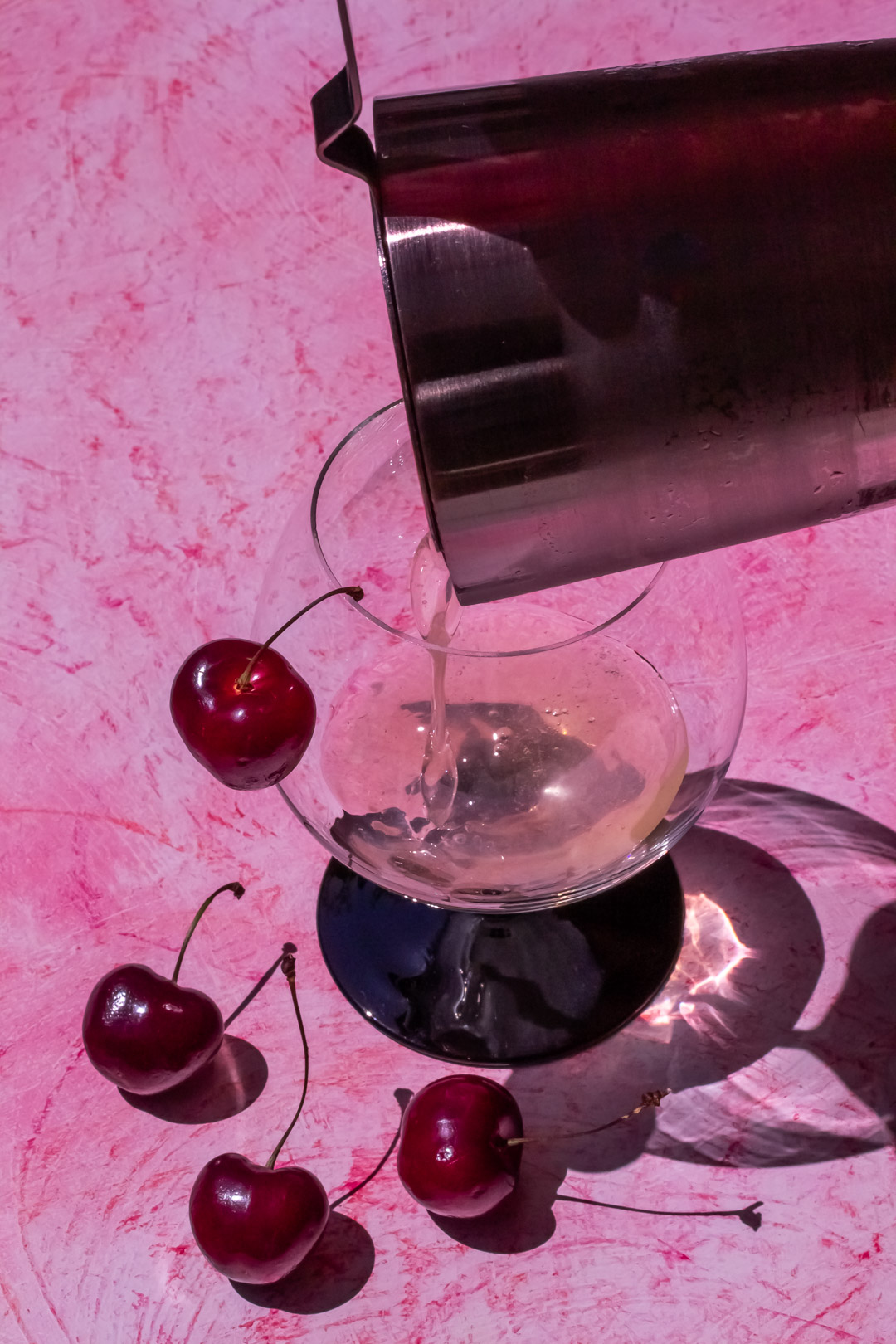 How to make the Xmas Sour Base: Shake & Strain
The Xmas Sour base is made by adding all the ingredients to a cocktail shaker with ice, shaking and straining into a prepared brandy snifter. The garnish consists of a chilled Sherry custard foam, a sprinkle of ground ginger and fresh cherry. For more on the custard foam and garnish see below.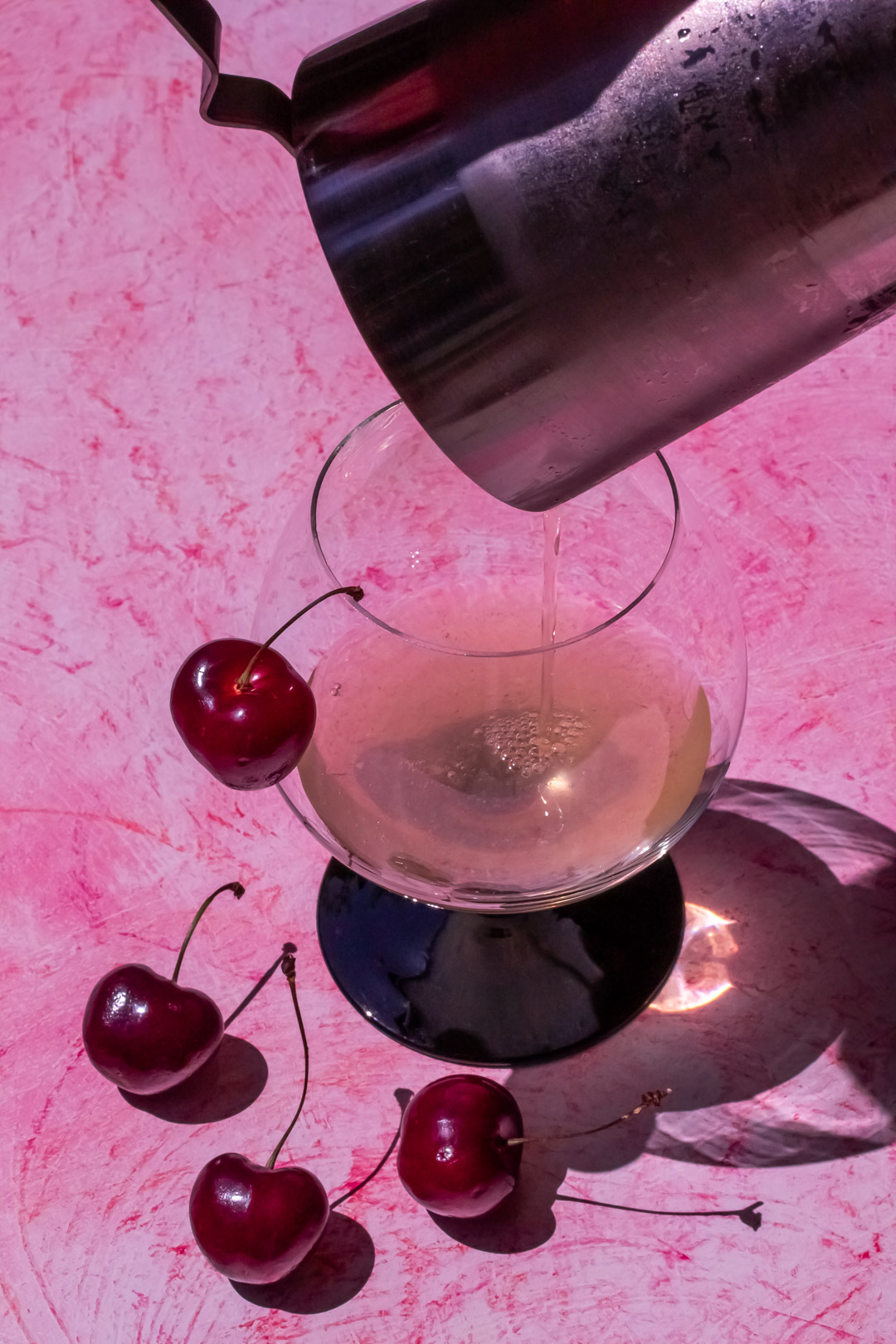 The Chilled Custard Foam Layer: Inspired by flavours of hot custard
The foam layer is inspired by the traditional accompaniment for hot Christmas pudding – hot custard. My favourite types of hot custard use spices such as cinnamon and vanilla and have a boozy kick with Brandy, Frangelico or Sherry. One of my favourite hot custard recipes is for Hazelnut Custard using cream, milk, egg yolks, sugar, fresh hazelnuts and Frangelico by Emma Knowles, Lisa Featherby and Adelaide Lucas (2008) appearing in Australian Gourmet Traveller. I still have my dog-eared copy of the magazine minus the cover on the bookshelf with the recipe marked as this was the first year, I made Christmas pudding with my Grandmother's recipe passed down from my Mum – the handwritten pudding recipe nestles inside the magazine where it's kept safe. My Grandma used to make her puddings in a billy, and I have very fond memories of the aroma and amazing butter, brandy, plum, cherry, spice flavour of her puddings which she served with freshly made custard although they were often consumed at the beach as this is where we would go for Summer Christmas holidays. In this molecular mixology version of custard, I have taken my favourite hot custard recipes and reworked them into a foam formula.
What is a cocktail foam? Cocktail foam recipes & ingredients
Jamie Boudreau (2011) in his video How to make foam for a cocktail outlines that a cocktail foam needs to contain ingredients of protein, sugar, acid and alcohol, in order to create a foamy texture, which he helpfully explains is a form of 'emulsion'. To marry the hot custard recipes with a foam formula I have referred closely to recipes for cocktail foam, also known as culinary foam, gastronomic foam, and in Spanish espuma. I have made a close reading of the cocktail foam recipes of Jamie Boudreau (2016: 95, 918), such as his Honey Foam and Canon Foam recipes in The Canon Cocktail Book, and his online educational videos on the Mexican Cloud Cocktail (Boudreau 2011) and Maple Old Fashioned (Boudreau 2012). I have in addition supplemented Boudreau's foam recipes by referring to other foam recipes including those for a vegan foam (Jaworska 2019), fruit juice-based foam (Liu 2019) and tea-based foam (Difford 2021), combined with my own flavour experiments and adapted below I offer a foam formula from which I work in developing the chilled custard foam recipe.
A Cocktail Foam Formula: A Sour texturised cocktail
This cocktail foam formula requires the ingredients of a Sour cocktail, that is sugar, acid, alcohol – and is then texturised with a protein, such as egg white and it needs to be balanced in the same way as a Sour with attention to the interaction between the base spirit, sweet and sour elements and it needs to work with the cocktail base, in this case the Xmas Sour base.
Protein: egg white, egg yolk, cream
Acid: citrus, vinegar, shrub syrup
Sugar: sugar syrup, honey syrup
Alcohol: to create as Boudreau (2011) says 'a cocktail within a cocktail' – alcohol used in a foam needs to be balanced with the other ingredients in the foam – sour, sweet – and complement and connect with the base layer.
Texturisers, lengtheners, other bases: water for lengthening and balancing, fruit juice or tea as a base, gelatine, xanthan gum for additional thickness and texture
Cocktail texturising ingredients & techniques
It should be noted that there are many texture modifying ingredients and techniques available – for an overview see for example Maja Jaworska's (2019) Science Your Way to a Texturally Complex Cocktail in Punch, Simon Difford's (accessed 2021) Foams in Difford's Guide and Kevin Liu's (2019) Cocktail Science: All About Foams in Serious Eats. My flavour experiments here were focussed on creating a foam custard using hot custard ingredients in a cold textured foam.
Custard foam recipe using an iSi whipper or siphon
Custard foam uses hot custard ingredients – egg yolks, cream, sugar, spices, alcohol – and plugs these into the foam formula above, which importantly is a Sour formula, that includes citrus juice, to create a light airy creamy texture. This is a cold custard foam that is also a Sour cocktail with its own flavour profile and balance.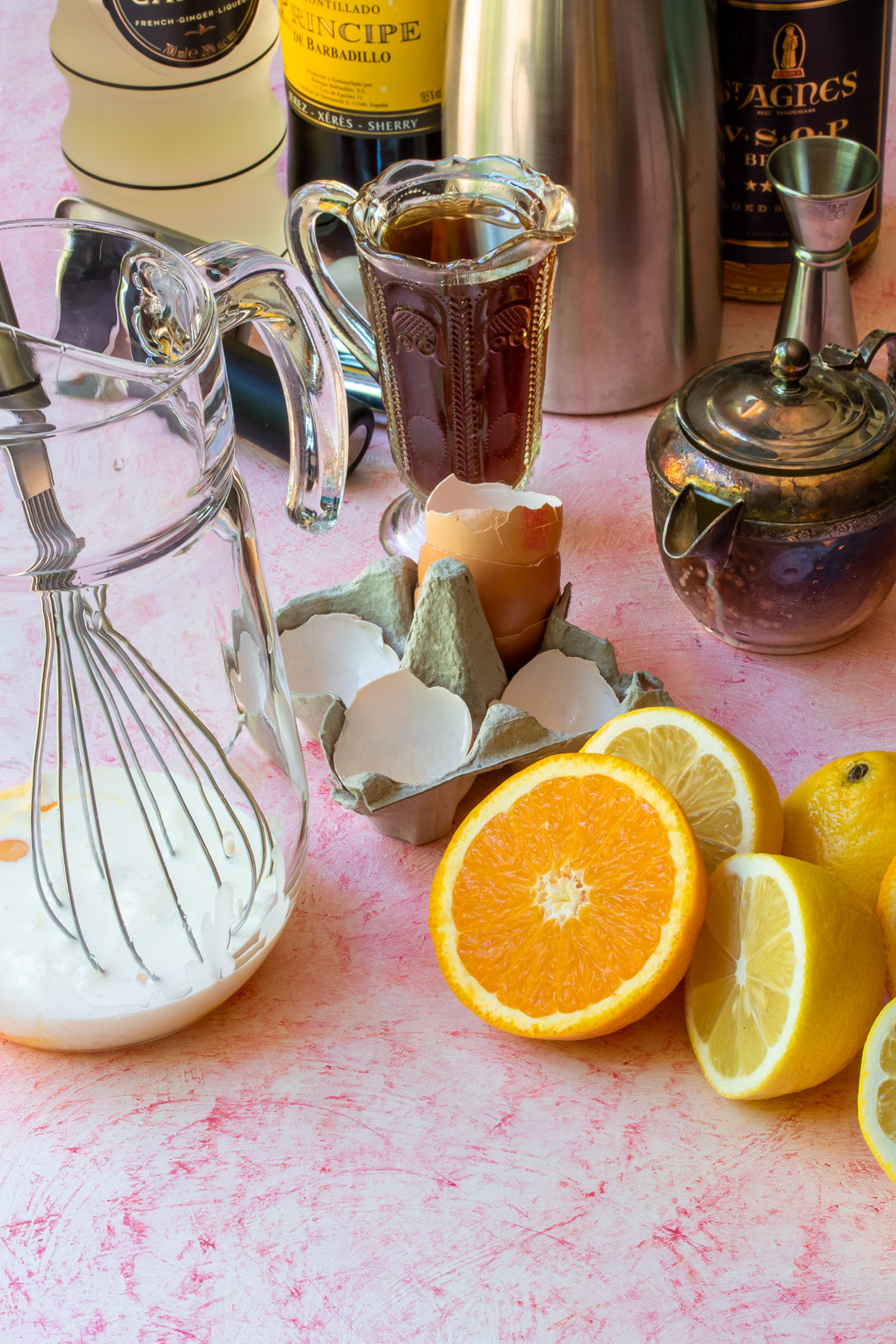 Protein: Egg Yolks & Cream
The protein component in the custard foam follows the hot custard recipes calling for egg yolks and cream. I used the standard 3 egg yolks and then added the remainder of the 4 oz. (120mls) of protein by topping with cream. I used real free range organic egg yolks and organic cream.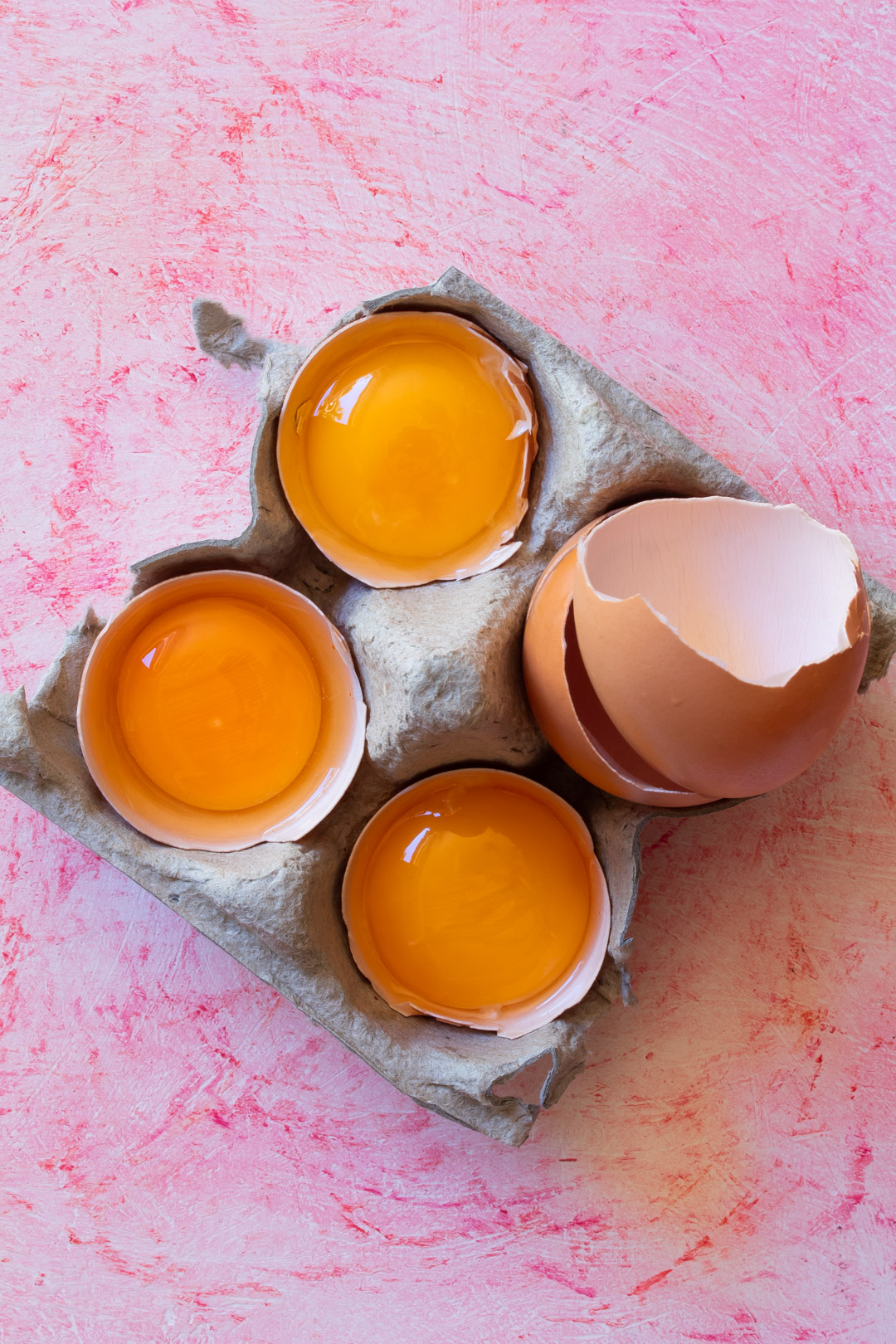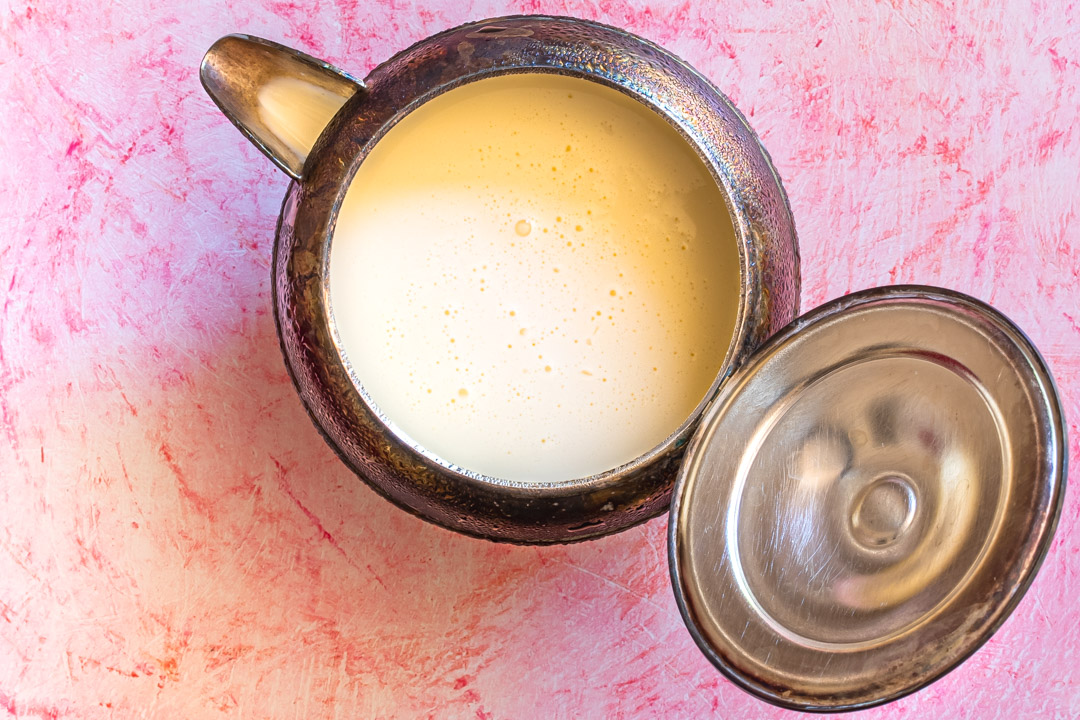 Sour: Lemon & Orange Juice
The souring or acidic element in the custard foam is a combination of lemon and orange juice. I have used a combination to retain the sourness of lemon and to introduce the sweetness and aromatics of orange which is a great accompaniment to Sherry.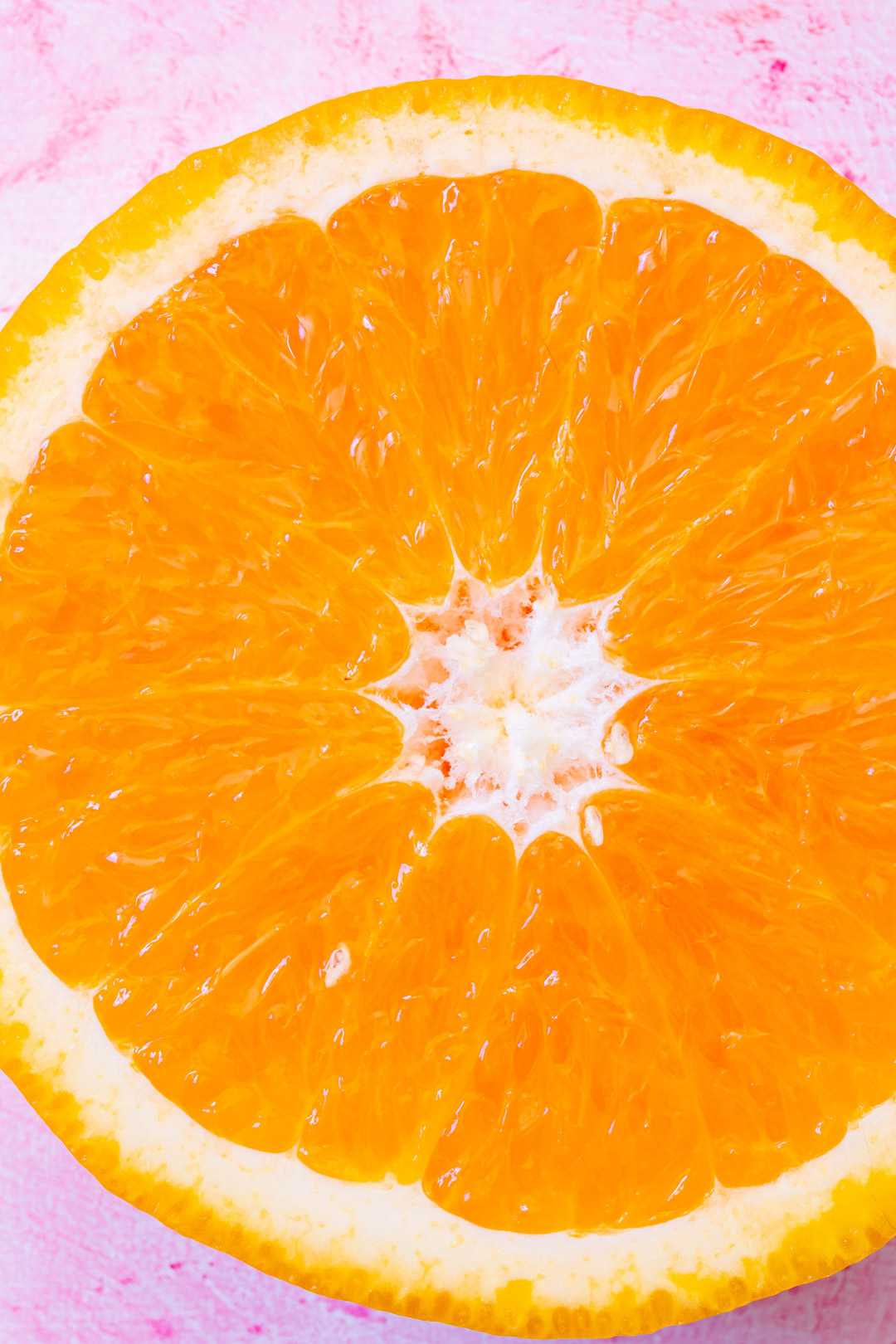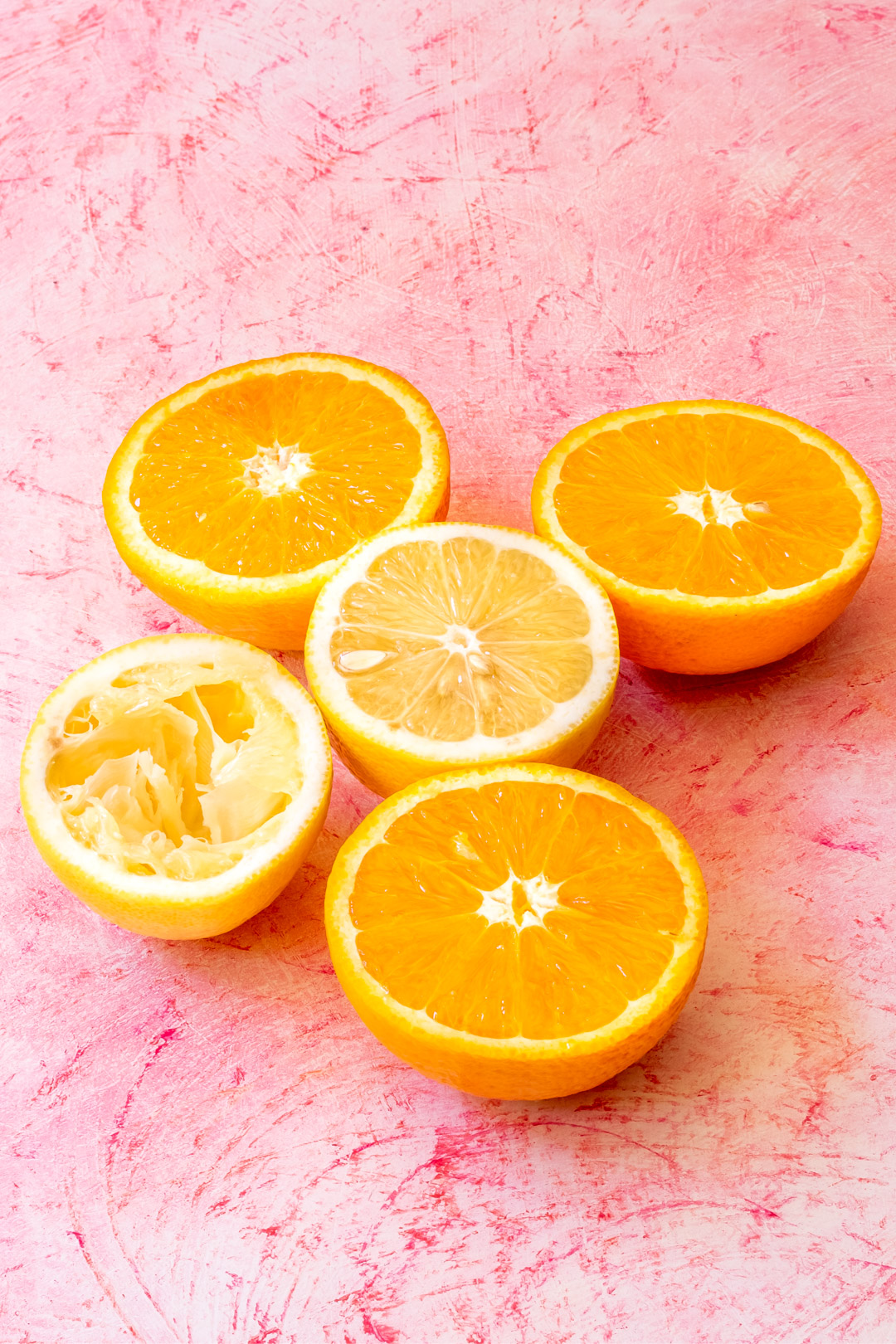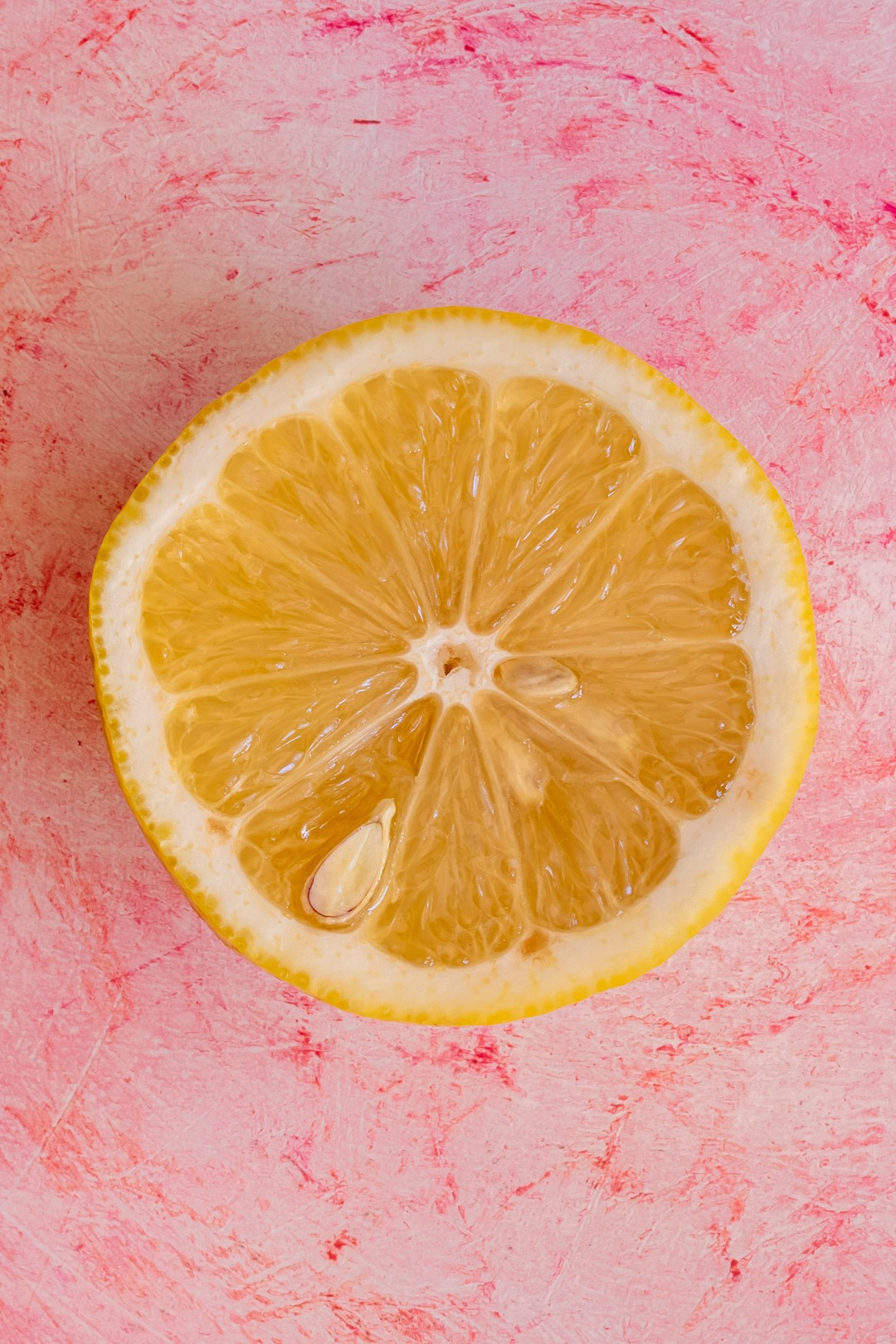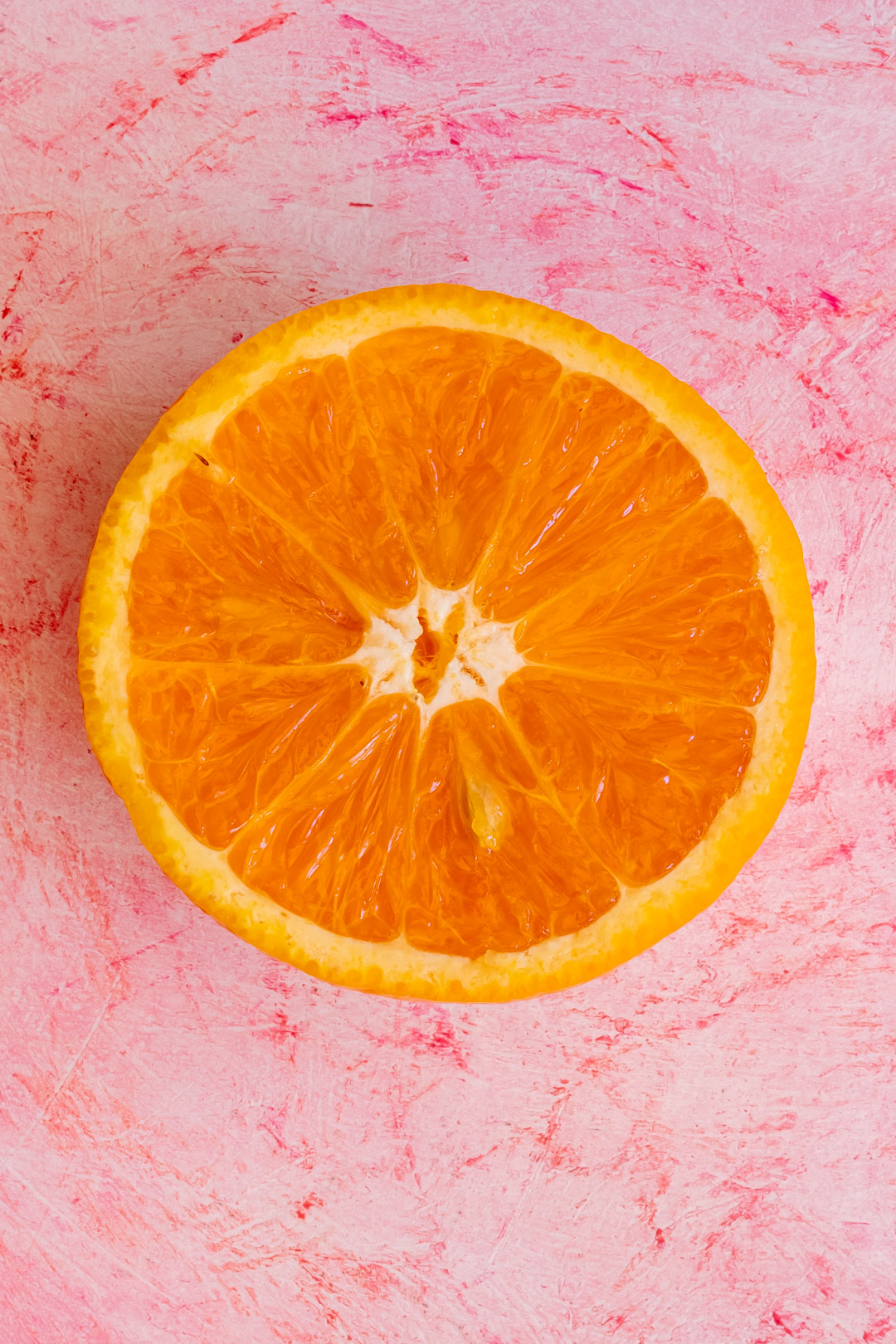 Sugar: Cinnamon Syrup
The sugar syrup here follows the custard recipes to introduce spice in the form of sweet warming cinnamon – this is infused in a 1:1 syrup with water and demerara sugar for a spiced sweetness that pairs well with Sherry, Ginger Liqueur and Brandy.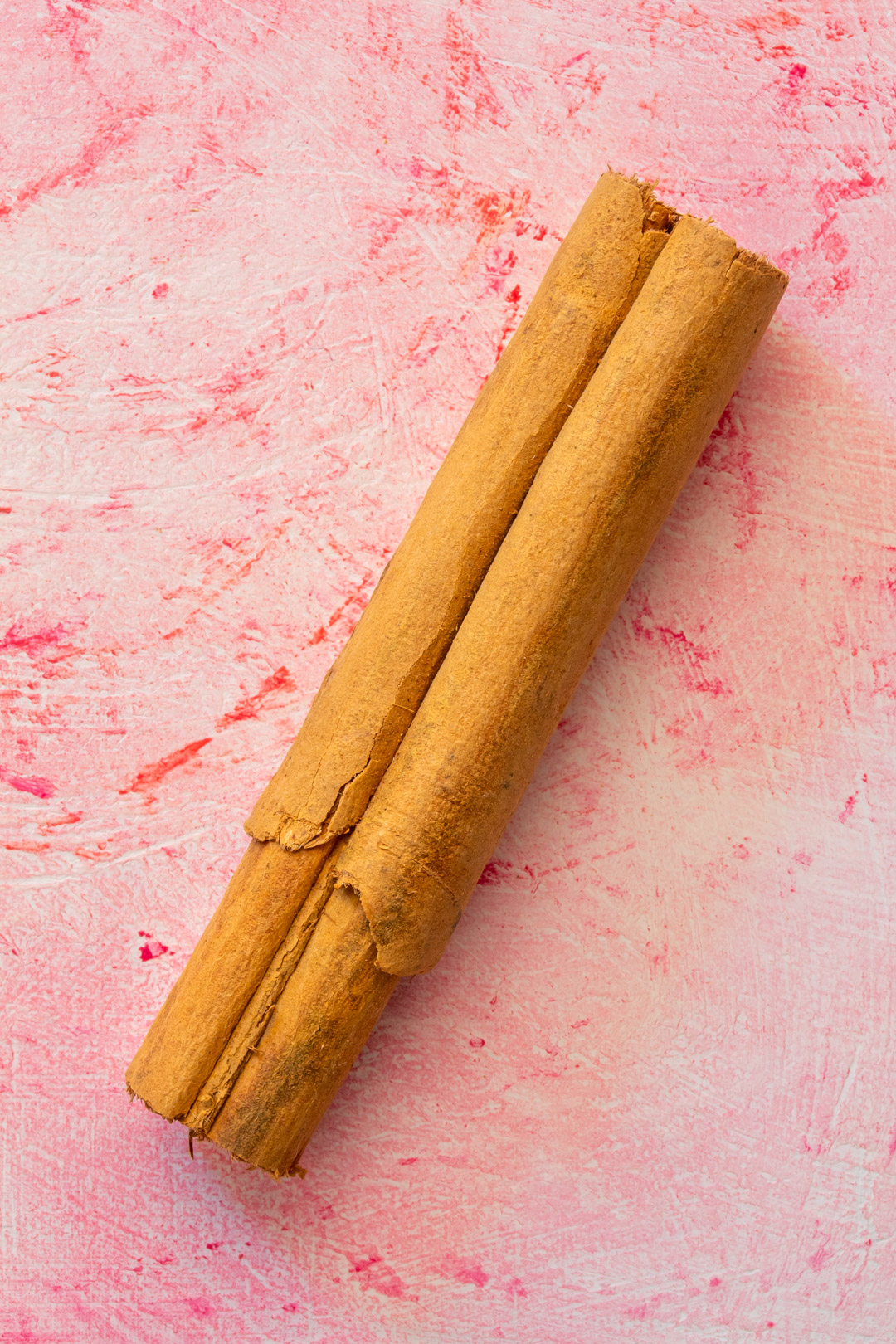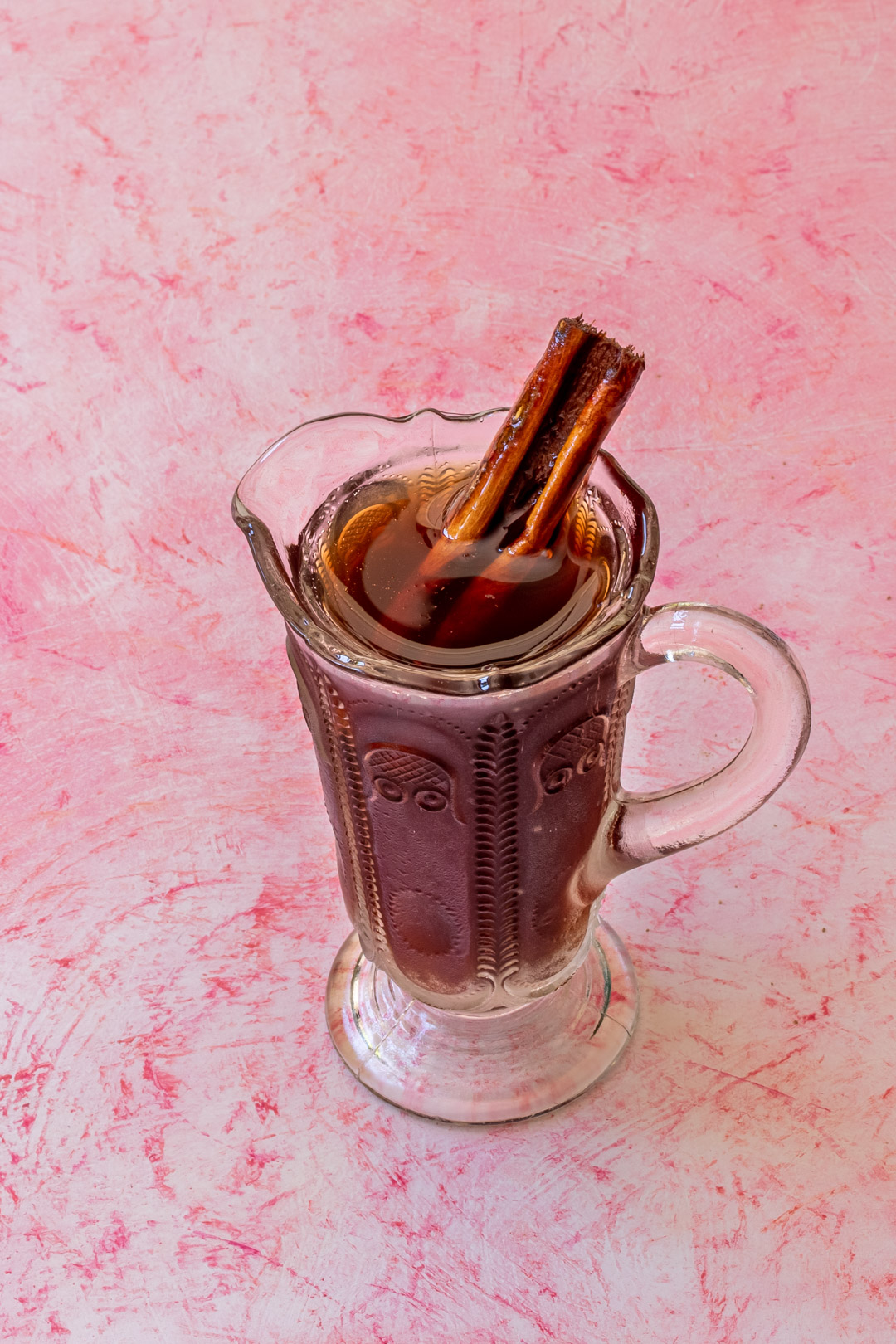 Alcohol: Sherry, Ginger Liqueur & Brandy
The custard foam calls the boozy kick of hot custard recipes with equal parts Sherry and Ginger Liqueur and an accent of Brandy, but carefully balances this with the sourness of lemon and orange and the sweet, spiced cinnamon syrup.
How to make a custard foam using an iSi whipper or siphon
The method for making the custard foam using the iSi whipper or siphon is easy – it just requires a little preparation and chilling time in the refrigerator. I suggest making your cinnamon syrup first, fine straining and refrigerating this so it is very cold when you are ready to make your foam. Next up juice your citrus and fine strain. Separate your egg yolks and set aside in a measuring cup in which you add the cream to come to the 4 oz. (120ml) measure you need. Once the syrup, citrus, eggs and cream are ready to go add all the ingredients along with the alcohol to a clean jug and whisk the ingredients together. Use a funnel to add to the iSi whipper or siphon and seal the vessel well. Then charge the whipper or siphon with 2 x N2O charges. These are added to the whipper by screwing in with the hollow handle that takes the cartridges. You will hear a hiss as the gas escapes into the whipper. Once the screw has been done up all the way and the hiss of the gas is heard you can undo the screw and add the second charge. Replace the handle without the spent charge for ease of handling and cleaning. Shake the whipper until all is well combined – a good tip is to listen for when the contents stop making noise when shaken. Then refrigerate until very cold before use.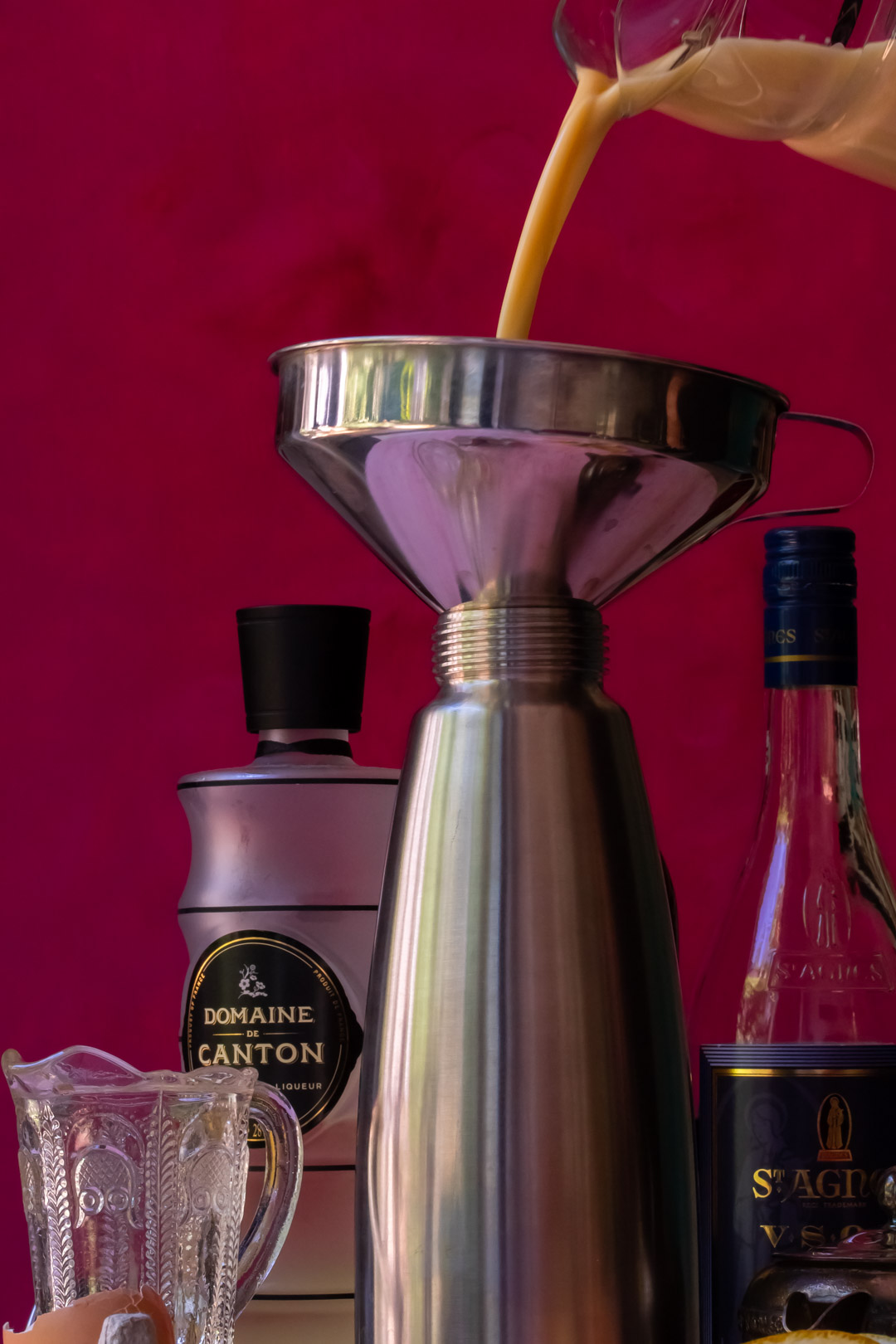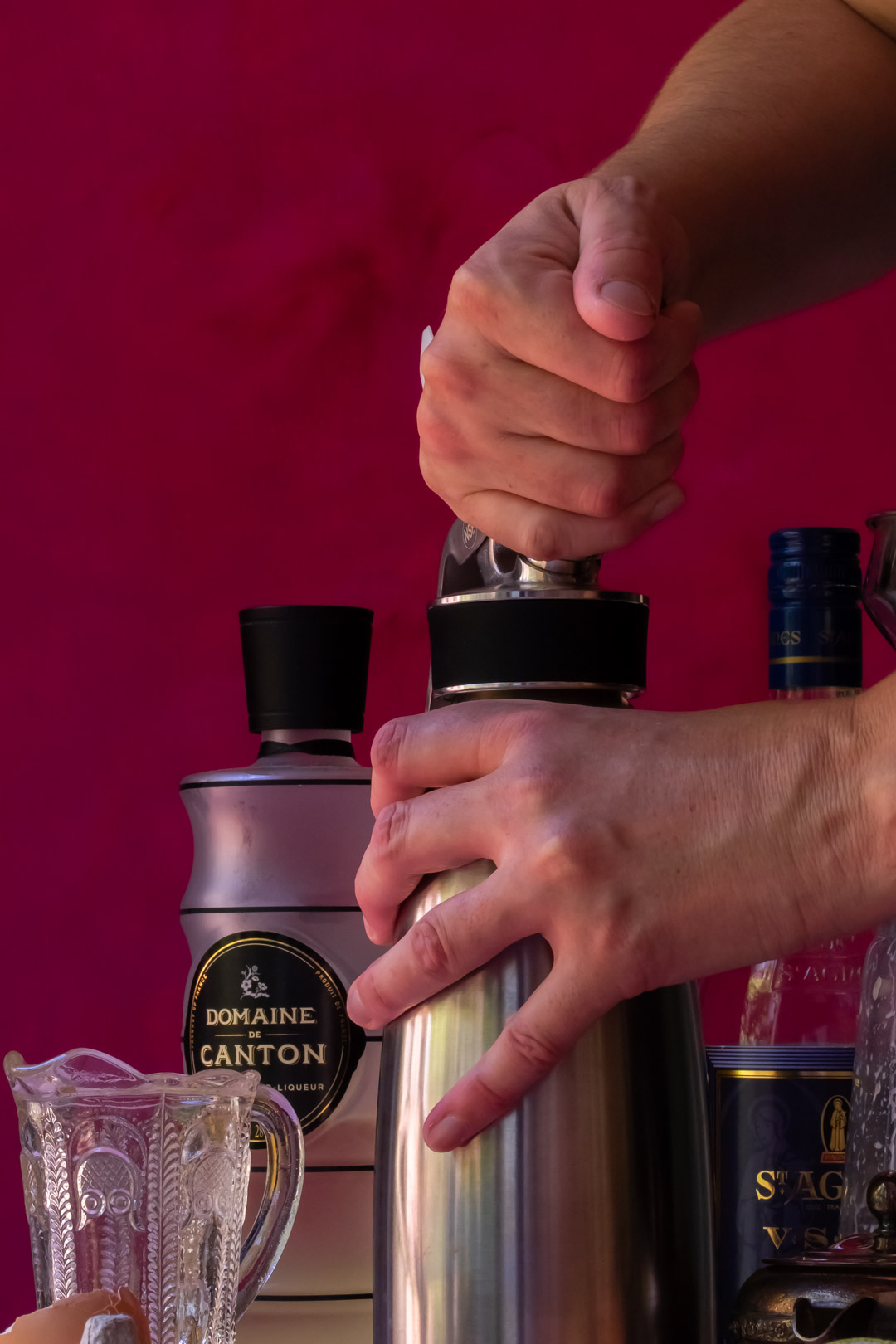 How to dispense custard foam using an iSi whipper or siphon
To use the custard foam as a garnish for a cocktail turn the pre-chilled iSi whipper or siphon upside down and gently and slowly depress the lever – the slower you do this the more control you have over the texture of the foam that is dispensed.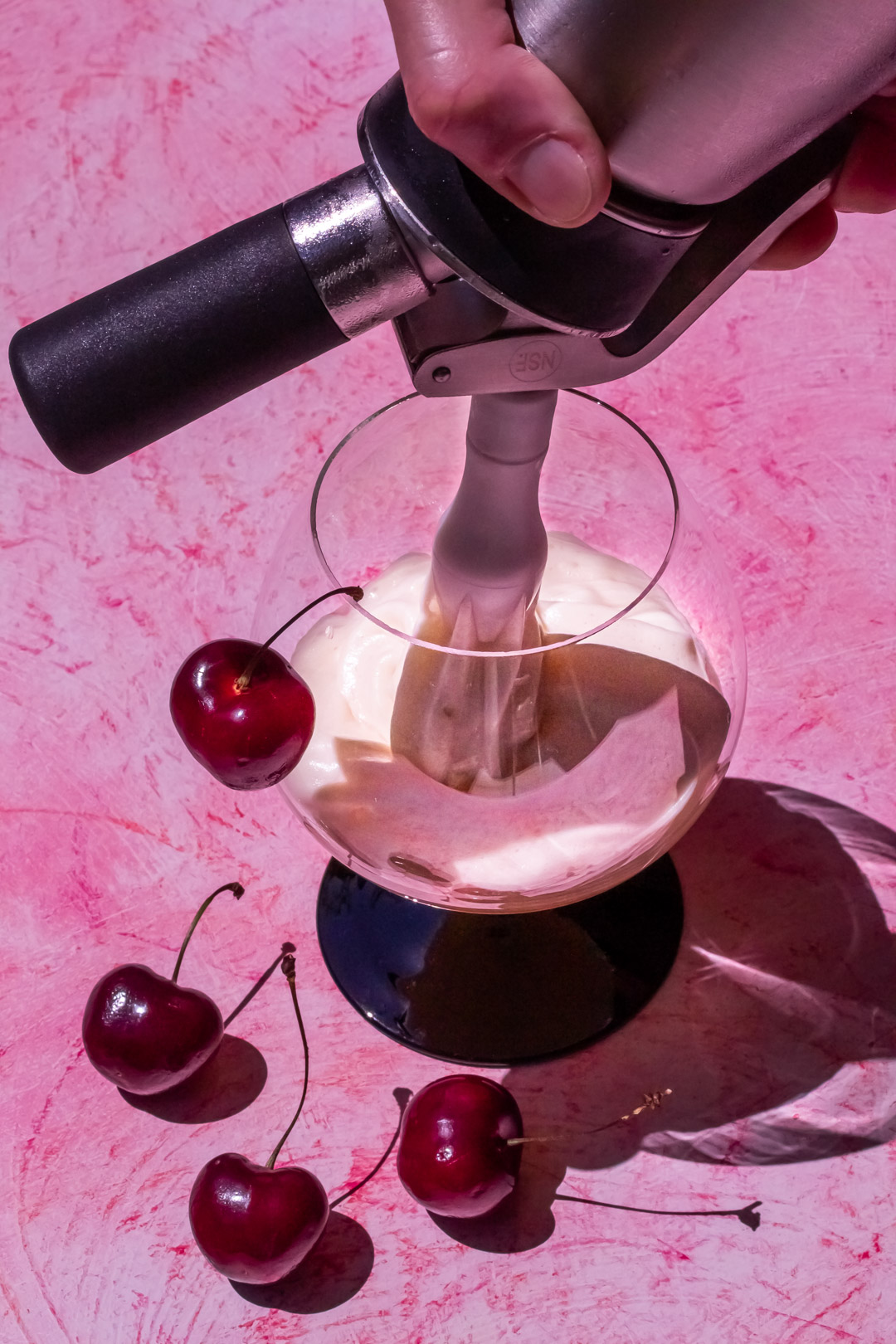 Tips for making creamy custard foam using an iSi whipper or siphon
Here are my tips for making a creamy custard foam:
My custard foam recipe is based on using a 1 Litre iSi whipper, also known as a siphon, with 2 x N2O charges and I recommend using this equipment to achieve a reliable result
Ensure whipper or siphon is well cleaned before use, always store whippers with the tops unscrewed and allow to thoroughly dry out before putting away
Use quality ingredients – I recommend using real free range organic egg yolks and organic cream and citrus
When preparing citrus juice ensure that this is fine strained
Make sure any syrups are fine strained and well cooled prior to use
When making foam combine ingredients before adding to whipper or siphon by straining into and whisking in a clean jug
Use a funnel for ease of pouring the ingredients into the whipper or siphon
Take care to seal the whipper or siphon well before charging with N2O
Once charged, shake the contents of the whipper well to combine – you will notice that the shaking makes less sound after a while, and this is a good time to stop shaking
Place whipper or siphon in the fridge to well chill the contents before using – the cooler the ingredients the thicker the foam will be
When dispensing foam do this slowly and with gentle pressure for a more evenly dispensed foam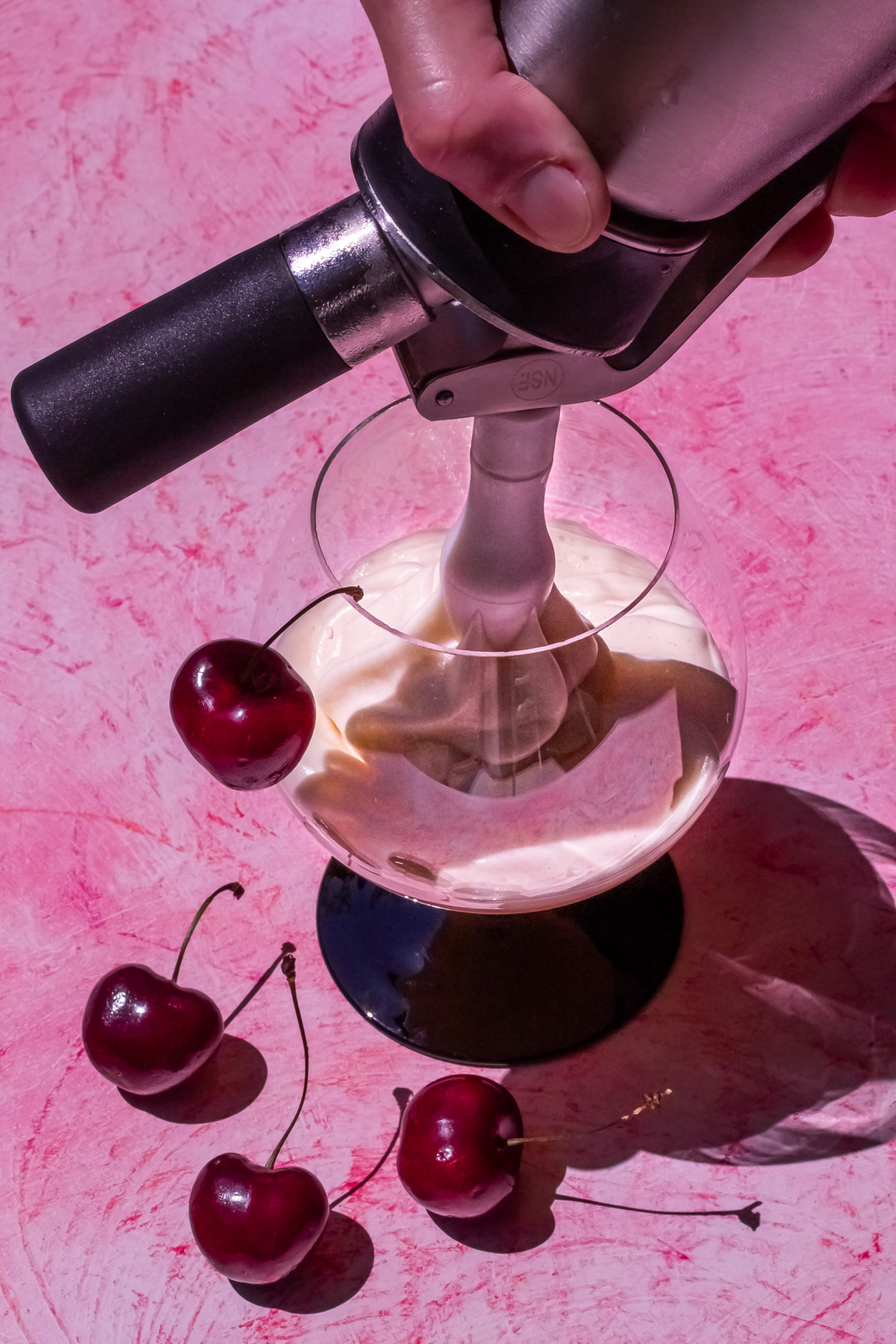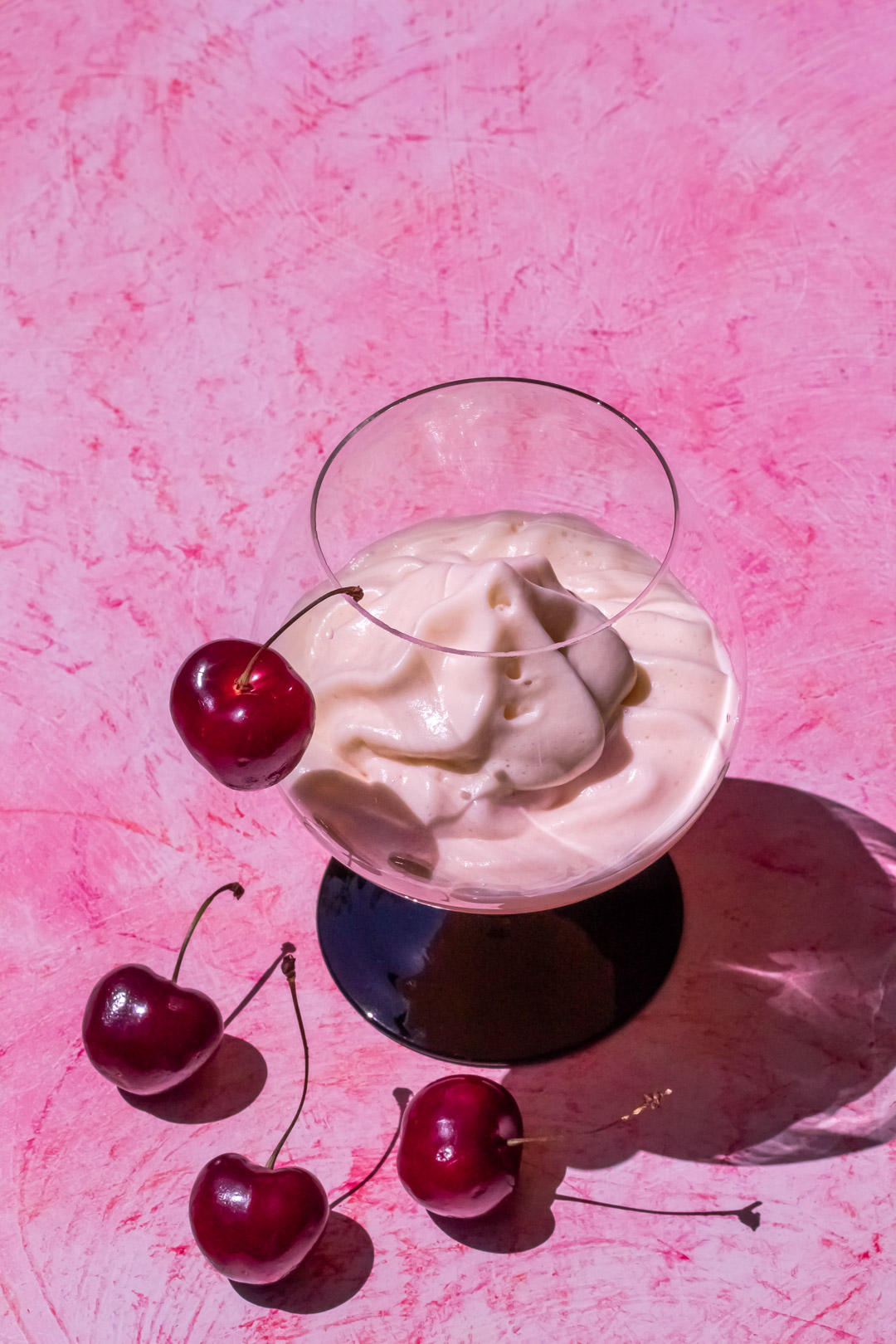 Garnish & styling: Refreshing Australian Summer Christmas Sour
The garnish for the Xmas Sour is a chilled Sherry custard foam topped with a sprinkle of ground ginger and a fresh cherry. The Xmas Sour is served in a vintage brandy snifter that adds to the experience of the beautiful textural custard foam, capturing the foam and allowing the aroma from the Sherry, Ginger Liqueur and Brandy to be appreciated along with the Christmas pudding aroma of the Gin. The Xmas Sour allows for a cooling and refreshing Sour dessert cocktail appropriate to a hot Summer Australian Christmas.
Christmas flavours & aromas
The Xmas Sour incorporates Christmas flavours such as fresh juniper that evokes fresh cut Christmas trees, brandy, butter, dried fruit and spice from distilled Christmas puddings in the Christmas Gin, paired with citrus and honey and an accent of complex herbal liqueur with honey and almonds.
The chilled Sherry custard foam turns a hot custard into a cool textural garnish that creates another Sour foam cocktail with complex Amontillado Sherry, flavour enhancing umami Ginger Liqueur married with an accent of Brandy with a base of egg yolk and cream and a spiced cinnamon sugar syrup along with fresh lemon and orange juice.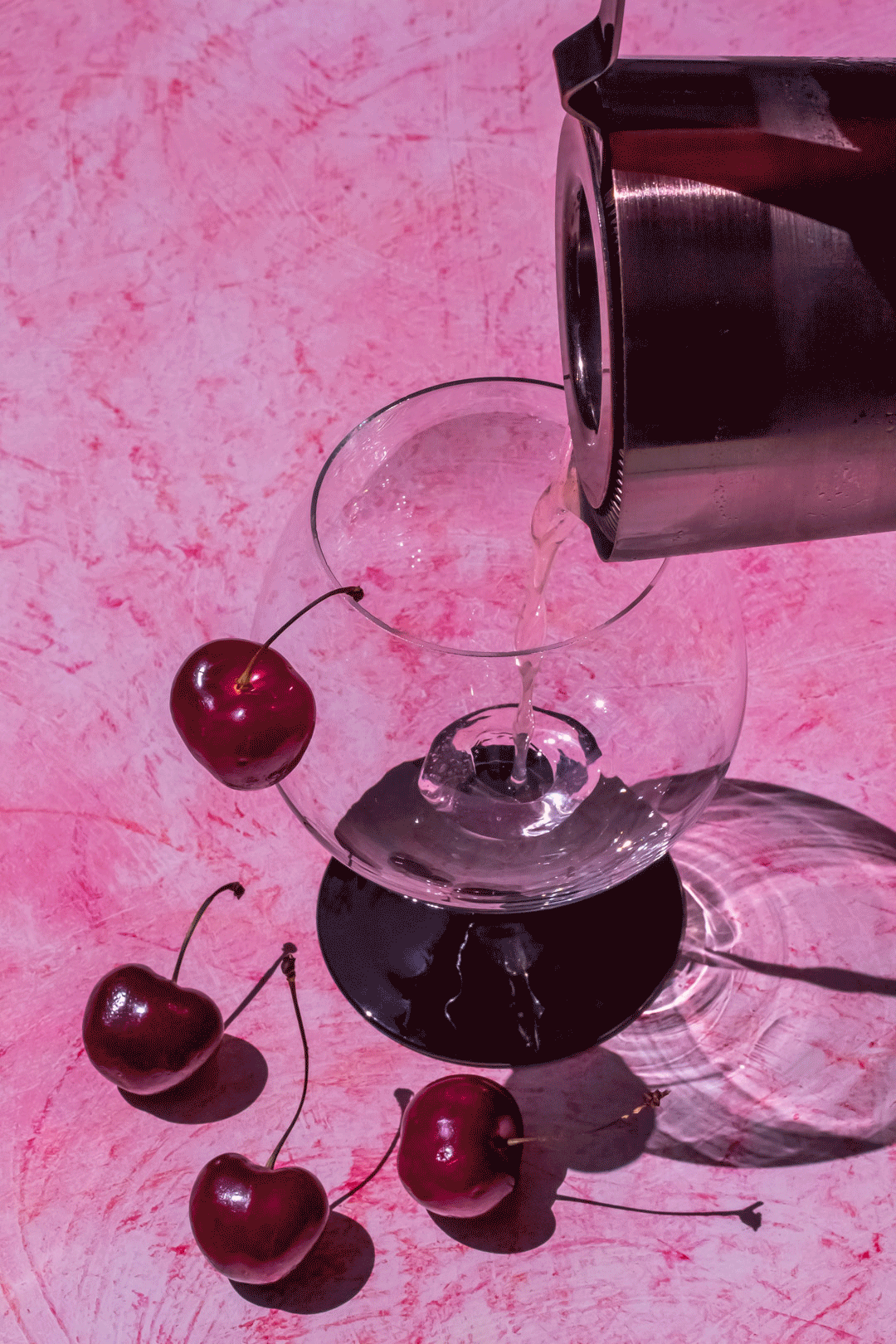 Cherries & ginger
Dusted with ginger and topped with a fresh cherry this is a perfect way to end Christmas lunch in Australia, where we celebrate Christmas in Summer. For other refreshing Summer Australian Christmas cocktail recipes see my posts on Ginger Beer Spiders with Aquafaba Macadamia Ice Cream, Cherry Daisy and Lychee Reviver.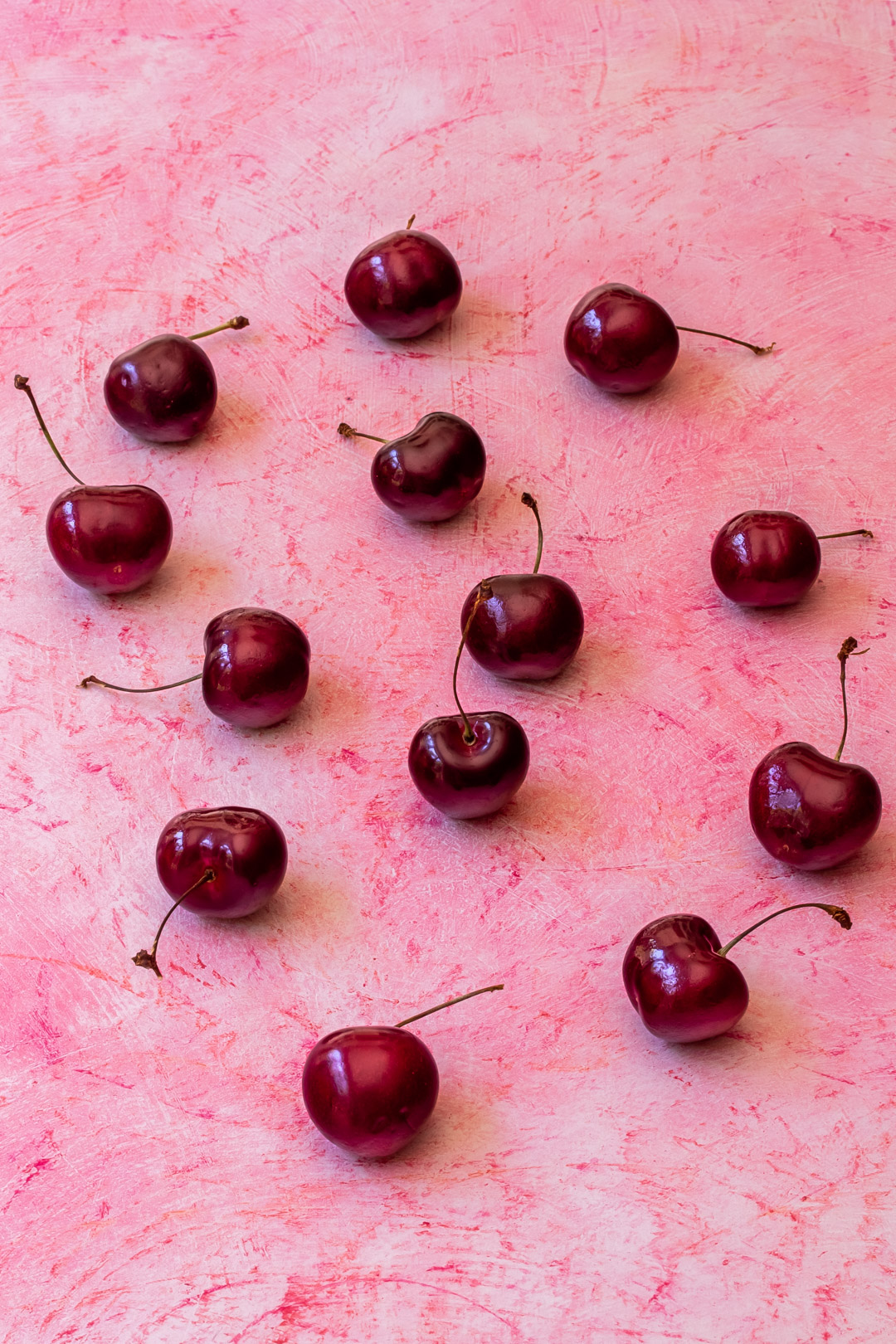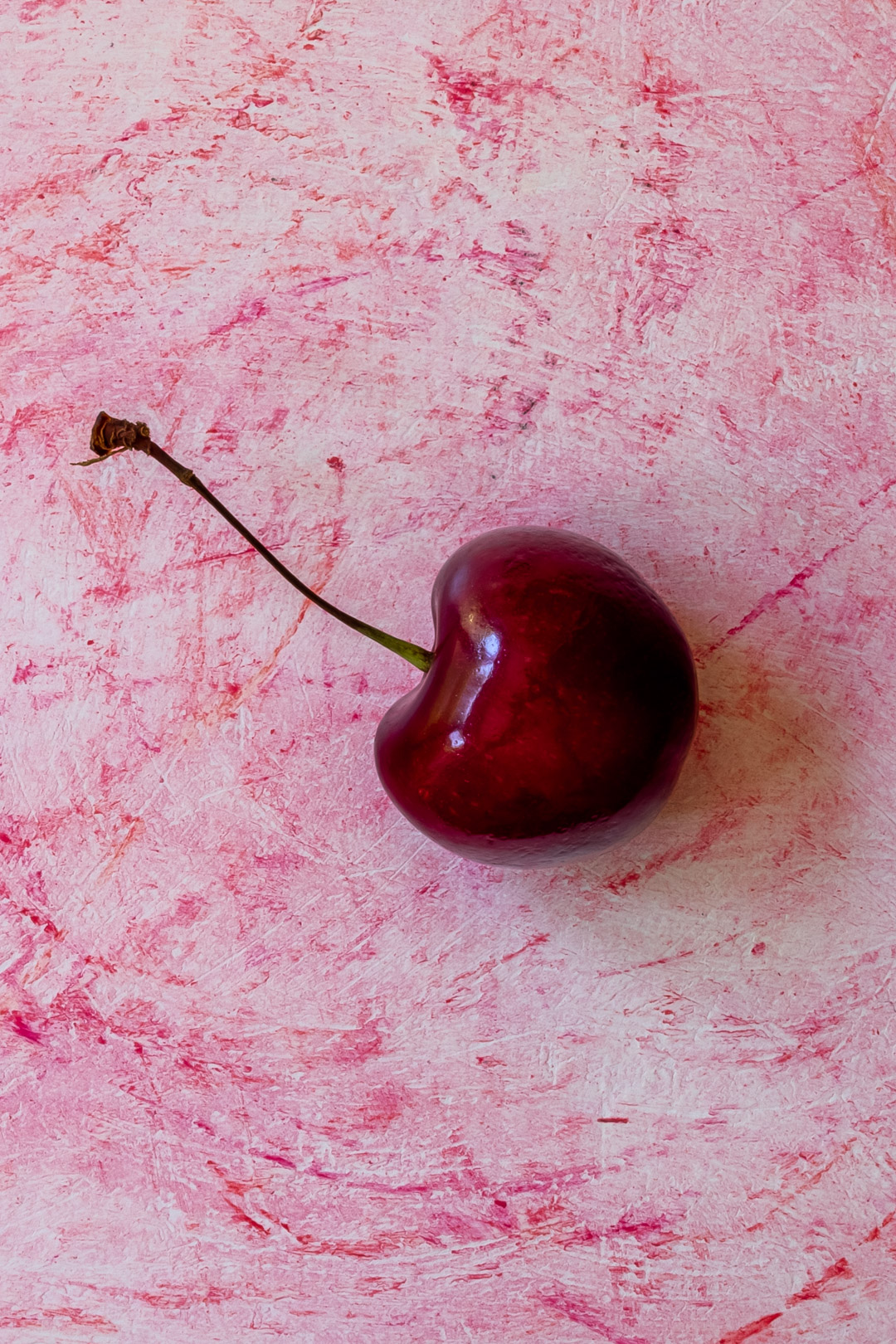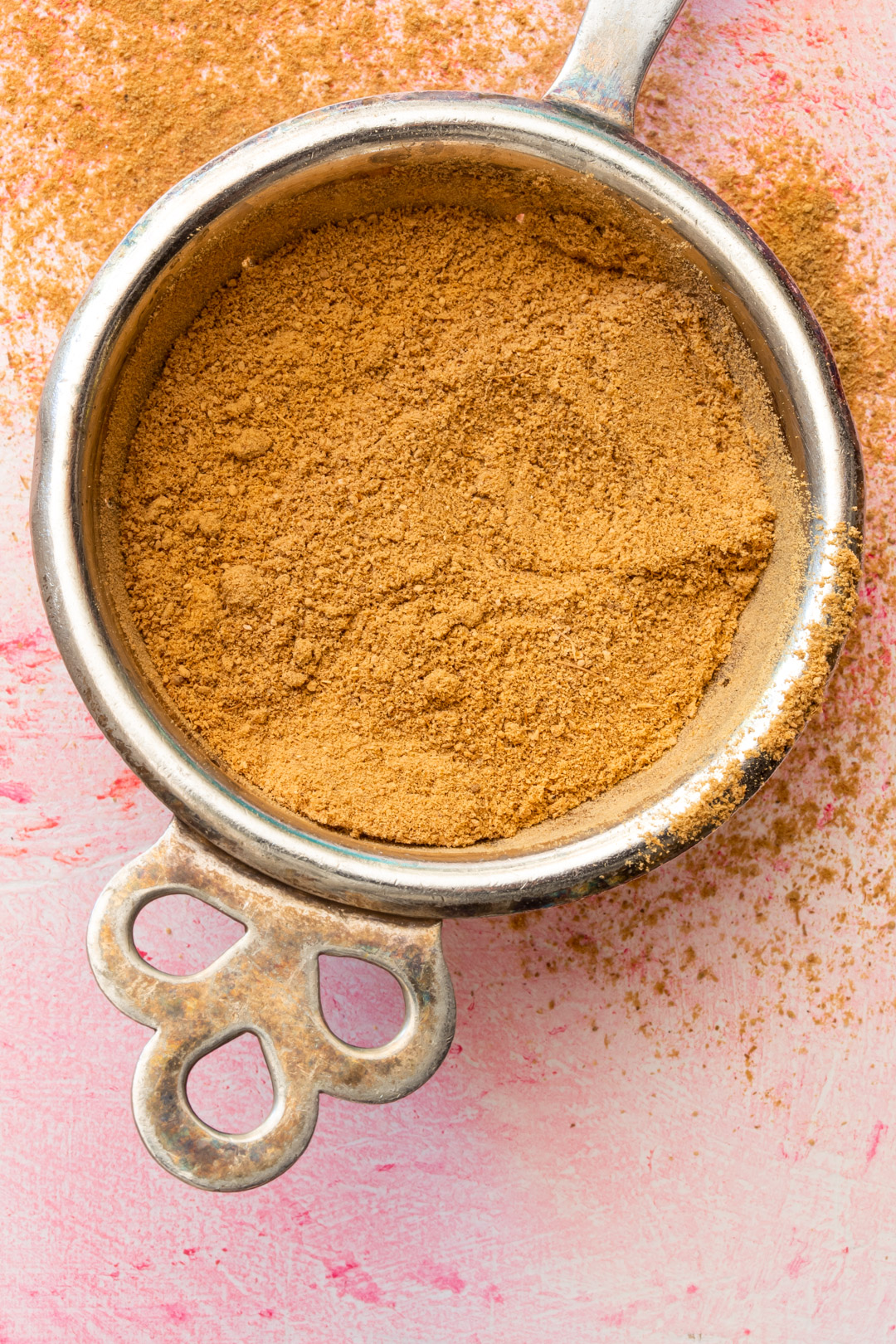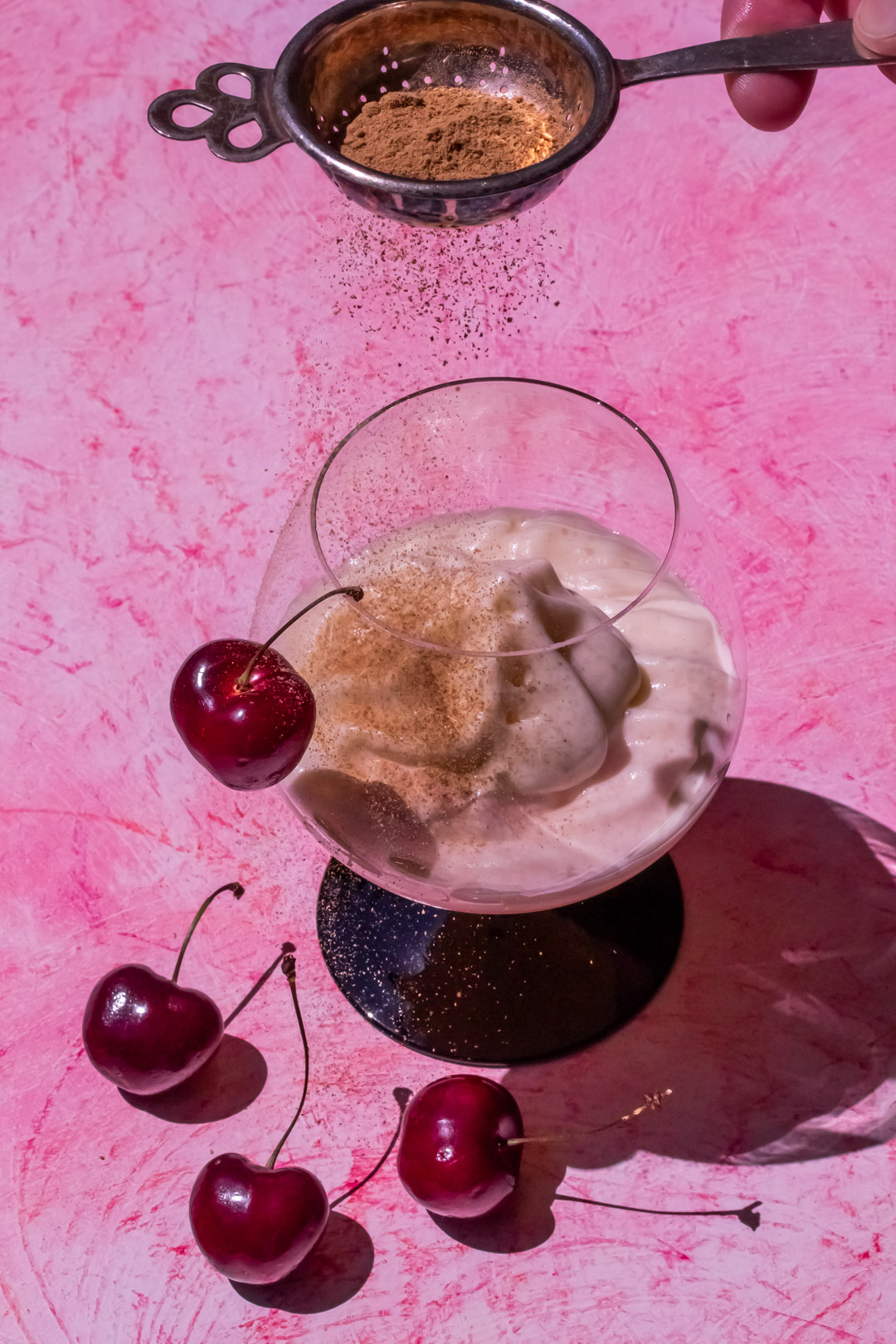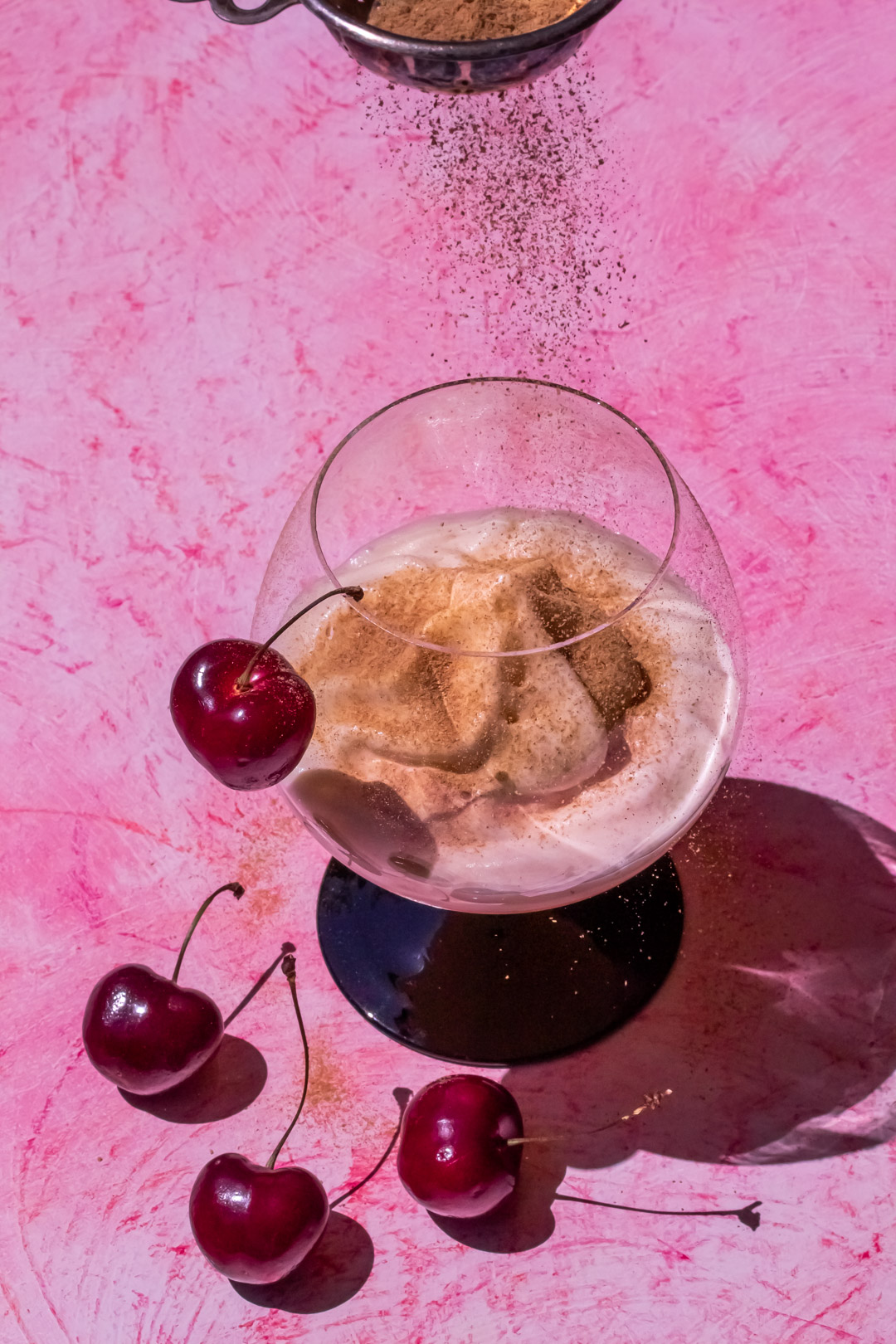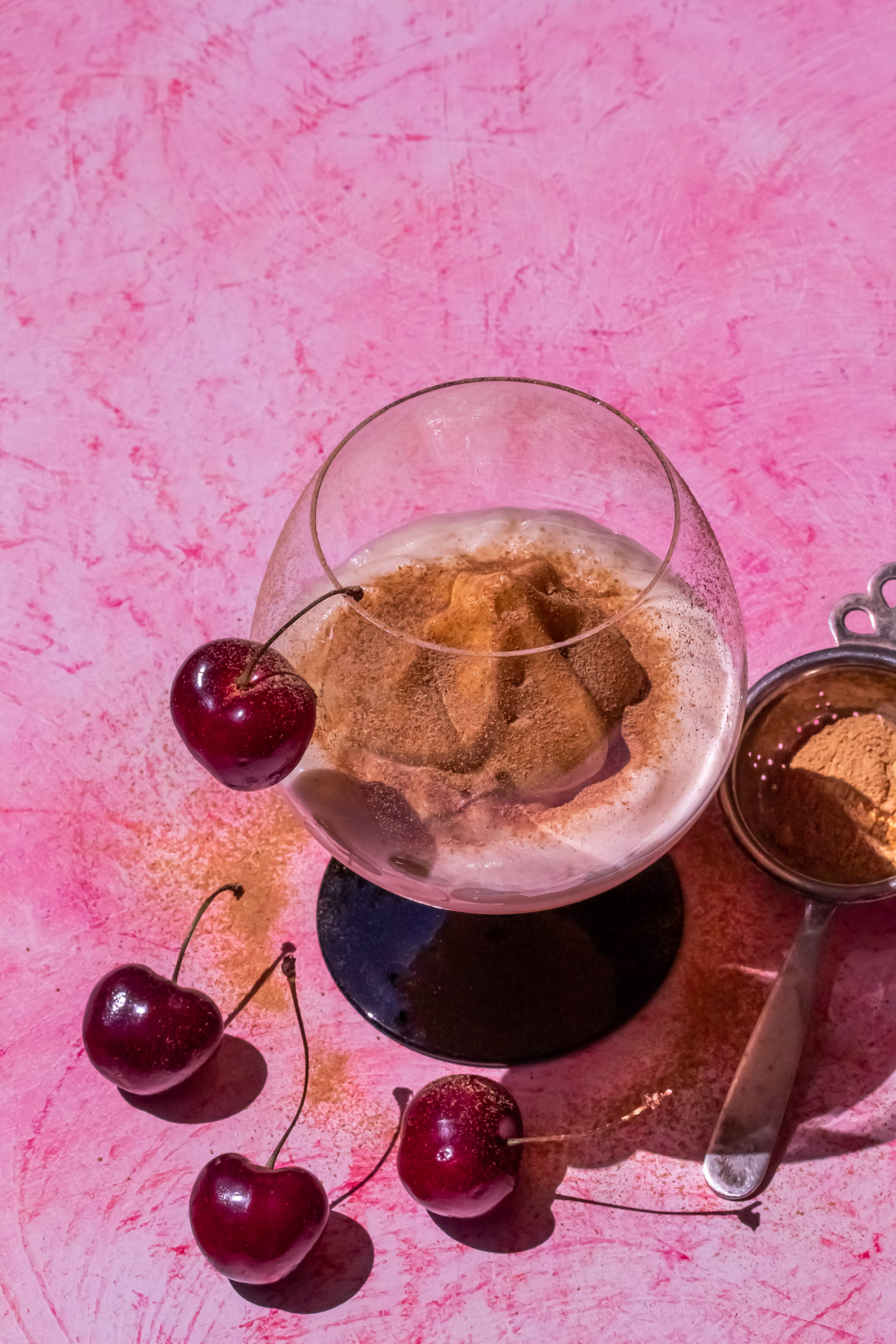 A picture inside a picture: Label art & ingredient photography
The colours and lighting – pink background, vibrant colours and hard light, fresh summer produce such as cherries – for the photography were inspired by the Four Pillars Christmas Gin bottle label artwork 'Prawns & Pavlova' by artist Andrea Huelin. You will find Angela's beautiful bottle label artwork inside my photo of the ingredients for the Xmas Sour cocktail.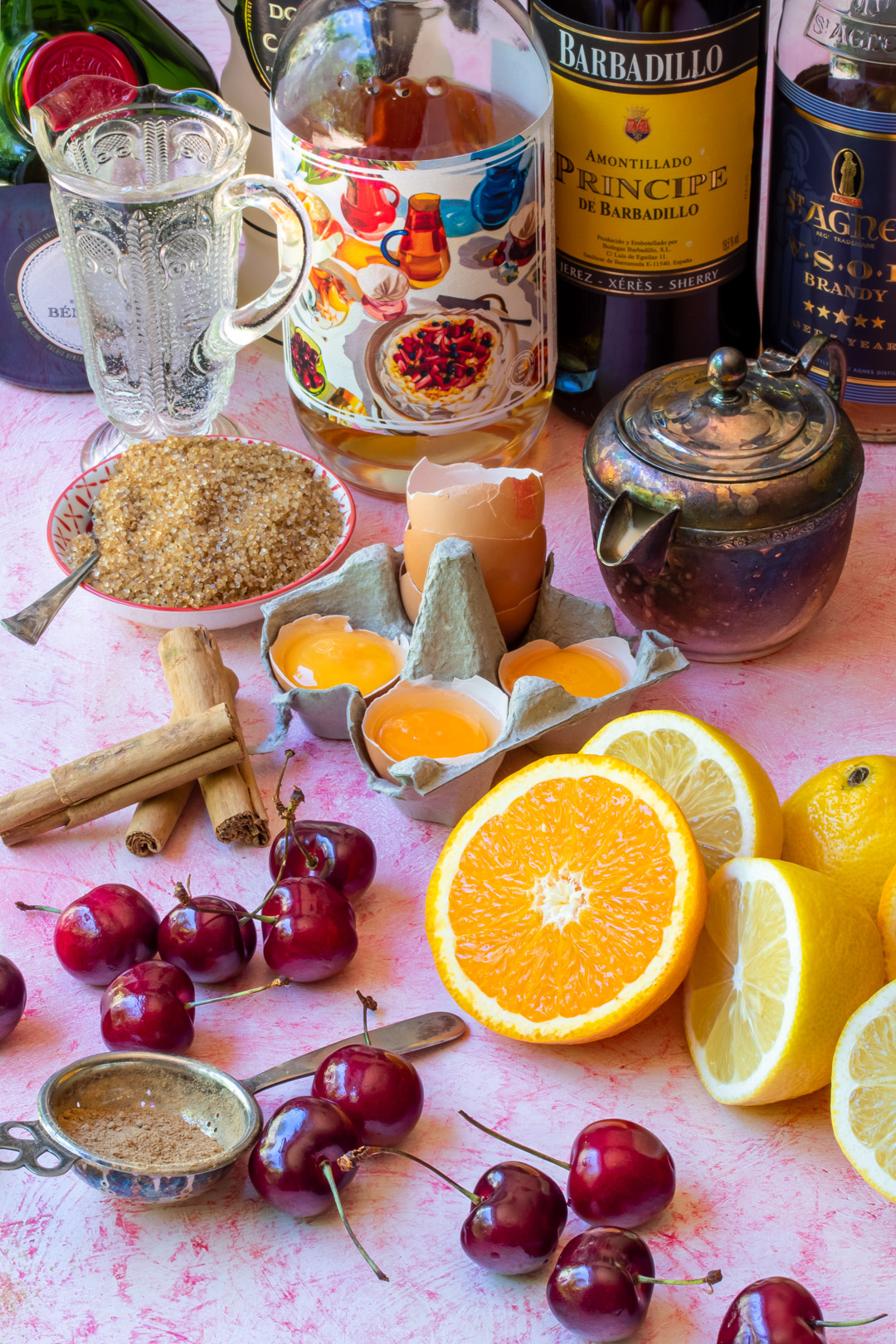 Xmas Sour: Chrissy Pudding Gin Sour Cocktail with Chilled Sherry Custard Foam
Print Recipe
Ingredients
Honey Syrup: 1 tablespoon wild flower honey

1 tablespoon hot water

Cinnamon Syrup: 6 oz. (180grms) demerara sugar

6 oz. (180mls) water

1 cinnamon stick

Custard Foam: 4oz. (120mls) protein: 3 real free range organic egg yolks, plus organic cream to make up the 4 oz. (120mls)

6 oz. (180mls) chilled and fine strained cinnamon syrup

1 oz. (30mls) fine strained fresh lemon juice

1 oz. (30mls) fine strained fresh orange juice

1 ¼ oz. (37.5mls) Sherry, Amontillado

1 ¼ oz. (37.5mls) Ginger Liqueur, Domaine de Canton

½ oz. (15mls) Brandy, St. Agnes

Equipment: Use 1 Litre iSi whipper and 2 x N2O charges
Xmas Sour: ¼ oz. (7.5mls) freshly squeezed and fine strained lemon juice

1 barspoon honey syrup

1 oz. (30mls) Christmas Gin, Four Pillars

1 barspoon Benedictine

Glassware: brandy snifter
Garnish: custard foam, cherry, ground ginger
Instructions
1
HONEY SYRUP: Add honey and hot water to a small container and stir to combine and melt honey – this is enough for a couple of cocktails only, increase batch size as needed
2
CINNAMON SYRUP: Add sugar, water and cinnamon stick to a small pan, heat over low heat until sugar has dissolved
4
Decant into a clean glass container and store in refrigerator, cool completely and fine strain before use
5
CUSTARD FOAM: Separate egg yolks from whites (reserve the whites for another use)
6
Add egg yolks to a measuring cup and fill up the remainder to the 4 oz. (120mls) mark with cream
7
Add the egg yolks and cream to a jug
8
Add chilled cinnamon syrup, Sherry, Ginger Liqueur and Brandy to the jug along with the eggs and cream
9
Squeeze and fine strain lemon and orange juice and add to the jug with the other ingredients
10
Whisk well to incorporate ingredients
11
Use a funnel to add the foam ingredients to a 1 litre whipper
12
Well seal the whipper and then charge using 2 x N2O charges
13
Shake well and refrigerate until very cold before use
14
XMAS SOUR: Add fine strained lemon juice, honey syrup, Christmas Gin and Benectictine to a cocktail shaker with ice
15
Shake and strain into brandy snifter
16
Top with custard foam, dispensing foam slowly using light pressure
17
Dust with ground ginger powder
18
Garnish with a fresh cherry using the cherry stem to suspend on the edge of the glass